"DON'T VOTE FOR HO CHI CHIN"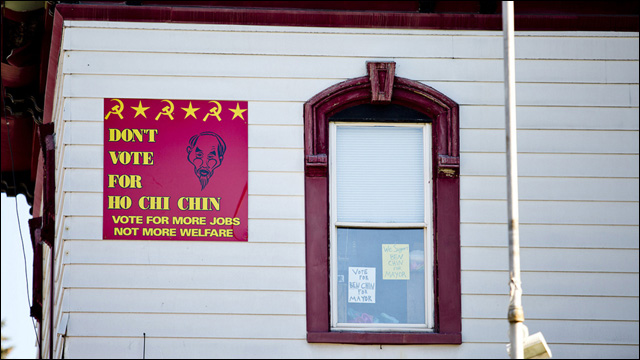 Damn. So this is how they throw down in Maine. Dirty. In Lewiston, both Democrats and Republicans condemned racist signs attacking an Asian American mayoral candidate that were posted on at least two downtown buildings. The signs feature a racist Asian caricature and Communist imagery.
Racist signs target mayoral candidate Ben Chin in Lewiston
The signs attack local mayoral candidate Ben Chin, referring to him "Ho Chi Chin." They are designed with the Communist hammer and sickle and read, "DON'T VOTE FOR HO CHI CHIN. VOTE FOR MORE JOBS NOT MORE WELFARE," with a caricature of Vietnamese revolutionary leader Ho Chi Minh.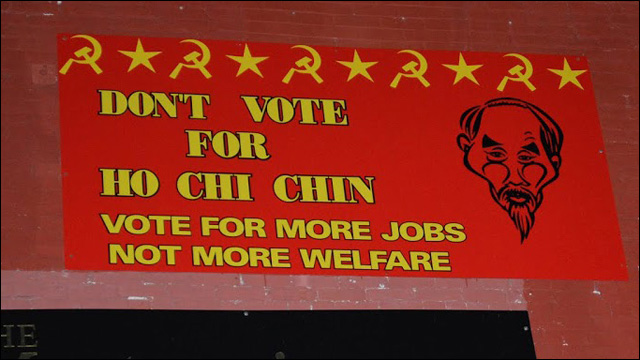 The signs were posted by local property manager Joe Dunne, who apparently has a long history of code violations and tenant abuse. Chin, political director of the advocacy group Maine's People Alliance, has called out Dunne and other problematic property owners "corporate slumlords."
Dunne says the signs are his way to "fight back," but insists that they're not racist.
Dunne has denied that the signs — which were taken down after complaints by tenants — were racist in nature. But he did say the attack was "personal," and meant to denounce Chin after the advocacy group Maine People's Alliance (MPA), called Dunne one of the city's worst landlords and described him as a "slumlord" in a report last month. Chin is the group's political director.

"The guy is out there slamming me all over the place, putting pamphlets in people's doors calling me a corporate slumlord, putting my home address out there and going into the schools to tell my daughter her parents are slumlords," Dunne said. "He's been kind of abusive to me, so I figured I'd fight back a little bit."

According to Beacon, the signs are also the latest in a series of racially-tinged attacks on Chin. Last week, the Maine Republican party launched a Tumblr blog and Facebook page with a photo of Chin superimposed over an unrelated photograph of black demonstrators and fires set during a conflict with police in Oakland.
Meanwhile, incumbent Mayor Robert Macdonald, who is running for re-election against Chin, claims he tried to convince Dunne not to post the signs. However, Chin's campaign suggests there might be connection between the mayor and Dunne's signs:
Despite the mayor's protests, Chin's campaign has suggested that there is a connection between him and Dunne's signs. Dunne co-owns the buildings where they were put up with former city councilor Normand Rousseau and his wife. Rousseau donated to Macdonald's campaigns in 2011 and 2013.

Macdonald also defended Dunne in a column for the Twin City Times, saying that the MPA "are the ones with horns, a pitchfork and red cape. They should only be approached in cold weather in order to prevent getting burned from the heat radiating from their bodies."

Shit is straight-up racist, basic yellow peril fear-mongering. And Lewiston residents are standing up to say they're not having it. On Monday, over 150 people
gathered for a rally
along Main Street across from Dunne's building, chanting "We will not tolerate hate."
More here:
Angry Maine property owner smears Chinese-American mayoral candidate as 'Ho Chi Chin'
FACEBOOK