Daniel Wu stars in AMC's new genre-bending martial arts action series.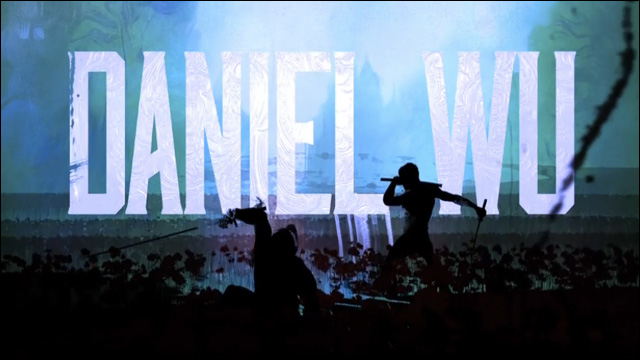 Holy moly. How freaking cool is this? Here is a first look at the incredible
opening credit sequence
for AMC's upcoming genre-bending martial arts action series
Into the Badlands
, starring Daniel Wu. It's sort of an awesome animated mix between contemporary comic book drawings and classic scroll paintings, set to a score by Linkin Park's Mike Shinoda.
Check it out:
Pretty badass.
Loosely based on the classic Chinese tale "Journey to the West,"
Into the Badlands
tells the story of a great warrior, Sonny, and a young boy, MK, who embark on a journey across a dangerous land to find enlightenment. And of course, kick ass along the way.
Into the Badlands
also stars Emily Beecham as The Widow, Aramis Knight as M.K., Marton Csokas as Quinn and Orla Brady as Lydia. The project was created by writers/showrunners Al Gough and Miles Millar, who will serve as executive producers along with David Dobkin, Stacer Sher, Michael Shamberg and Stephen Fung.
Here's also a new trailer, which reveals a few new details about the series:
Like the trailer says, the show is set hundreds of years into the future, when guns have been banished, ruthless barons rule the land and assassins enforce their power. And as you can see, one assassin is feared above all others. That would be Sonny. I look forward to seeing all the asskicking on this show.
Into the Badlands
premieres Sunday, November 15 at 10:00pm on AMC.
ADVERTISEMENT