David Bowers clearly did not understand how the internet works.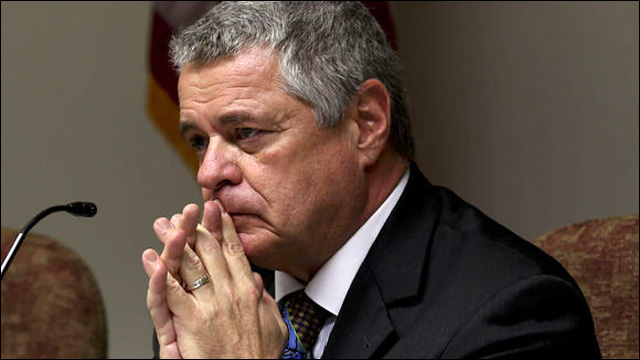 On Friday, the mayor of Roanoke, Virginia apologized for his statement about Syrian refugees in which he invoked the incarceration of Japanese Americans during World War II as model policy.
Roanoke Mayor Apologizes for Japanese Internment Remarks
After basically getting his ass kicked with widespread backlash over what can at best be described as a piss-poor of one of U.S. government's greatest injustices, Mayor David Bowers apologized for his remarks.
"I apologize to all those offended by my remarks," Bowers said at a special meeting of the Roanoke City Council. "No one else is to be blamed but me."

Earlier this week, Bowers issued an
unsolicited statement
requesting area governments and nongovernmental agencies to suspend and delay any further Syrian refugee assistance. His reasoning cited the forcible wartime relocation and imprisonment of Japanese Americans as historical precedent.
"I'm reminded that President Franklin D. Roosevelt felt compelled to sequester Japanese foreign nationals after the bombing of Pearl Harbor," Bowers said in his statement, "and it appears that the threat of harm to America from ISIS now is just as real and serious as that from our enemies then."
Bowers' comments sparked immediate national criticism. The hammer fell hard.
Rep. Mike Honda, who lived in an internment camp, and Democratic National Committee Chair Debbie Wasserman Schultz put out a joint statement saying that "his rhetoric has no place in our party." Bowers also lost his spot on Democratic presidential candidate Hillary Clinton's Virginia Leadership Council.
Amid calls for his resignation, Bowers apologized and expressed that his comments were "a personal political view" issued "on mayor's office stationery." He also said he had no idea his comments would go viral.
.@City_of_Roanoke mayor Bowers said he didn't expect his statement to go viral & he apologized to everybody offended pic.twitter.com/pSlyuajNA5

— Annie Andersen (@Annie_Andersen) November 20, 2015
"I anticipated that the statement might receive some coverage in the Roanoke Valley, but I did not in any way anticipate that it would trend internationally over the Internet," he said.
Clearly, the mayor has no idea how the internet works.
As is usually the case in moments like these, Bowers strained to make it clear that "It's just not in my heart to be racist or bigoted. My statement was intended to be respectful -- was intended to be respectful -- measured and moderate in tone and substance, but it fell short obviously."
I'm sorry, but this apology is kinda bullshit.
He's sorry you were offended, he had no intention of offending anyone, and he regrets that he's harmed the reputation of Roanoke, yadda yadda... He admits that his comparison was "inappropriate" and "unwise," but at no point does he acknowledge that his historical view was warped, and the incarceration of Japanese Americans was just plain wrong. (Like the U.S. government has officially acknowledged.) For all we know, he's still hanging to the belief that internment was all good in the hood.
More here:
Mayor Apologizes For Citing WWII Japanese Internment Camps In Rejecting Refugees