George Takei calls on Trump to denounce racial/religious profiling and invites him to his Broadway musical.
Donald Trump has a standing open invitation to attend a performance of the Broadway musical
Allegiance
, issued by star George Takei himself. They've even been saving a seat for him at every performance.
Last week, Takei issued a
video response
to Trump's recent comments regarding both the Muslim community and Japanese American internment camps. The Republican presidential candidate called for a ban on all Muslims entering the U.S. and could not definitively say whether or not he would have supported the incarceration of Japanese Americans during World War II. His supporters seem to think
it was a good idea
.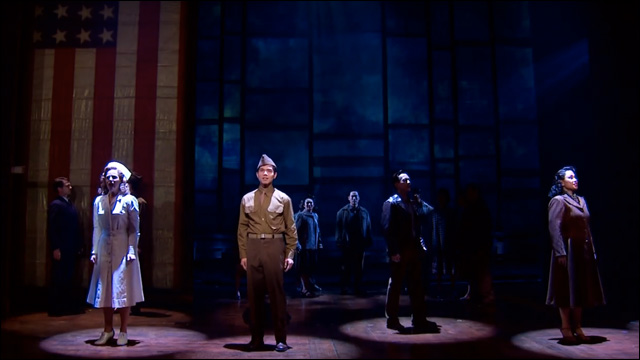 Takei spent his childhood in an internment camp.
Allegiance
, inspired by his true-life experience, tells the story of one Japanese American family's resilience as they are wrongfully imprisoned during World War II.
History is repeating itself. There are obvious parallels between the wartime incarceration of 120,000 loyal American citizens and the dangerous contemporary climate of Islamophobia. And Trump clearly has no problem recklessly poking at the hornet's nest for political gain.
Uncle George is confident that Trump -- his former
Celebrity Apprentice
boss -- could learn a valuable lesson or two from his musical. In this video, he challenges Trump to disavow the internment and racial and religious profiling, and promises to save a seat for the candidate at every performance of
Allegiance
until he attends:
Will Trump Face The Music?

I invited Donald Trump to see our show to see if I could make his heart grow three sizes, but haven't heard back. So I arranged something extra special for him. Have a listen, friends.

Posted by George Takei on Thursday, December 17, 2015
You hear that, Trump? There is literally a seat with your name on it at the Longacre Theatre.
As of this writing,
Allegiance
is on Day 11 of #trumpwatch.
FACEBOOK