"I'm all about connecting with people and making things happen."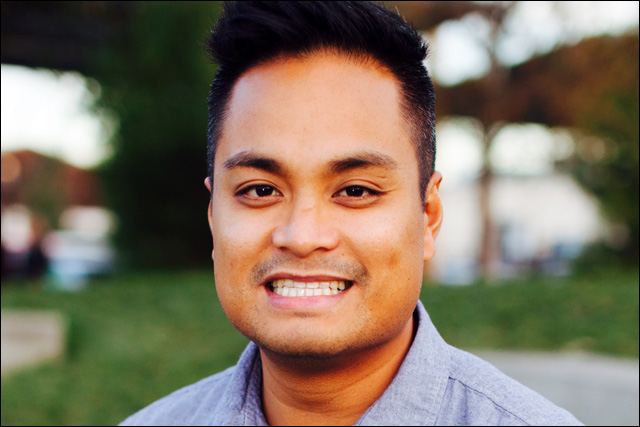 Hello, internet! It is time, once again, to meet the
Angry Reader of the Week
, spotlighting you, the very special readers of this website. Over the years, I've been able to connect with a lot of cool folks, and this is a way of showing some appreciation and attention to the people who help make this blog what it is. This week's Angry Reader is Francis Cullado.
Who are you?
I am Francis Cullado. My parents named me Francis since I was born on St. Francis day. And my last name is pronounced "Cool-ya-doh", but since it's America, I just tell people "Cool-la-doe."
What are you?
Filipino American. Husband and a father of a soon-to-be three year-old girl. An arts administrator. Accordionist.
Where are you?
Sitting on my couch, watching yesterday's Lakers win at the Wizards, and trying to enjoy Kobe's last season, as I wait to transfer laundry from the washer to the dryer. Lowkey bummed that my basketball hero is retiring.
Where are you from?
I was born in the Philippines, in the province of Bataan. Yes, the same place where the death march happened in WWII. Place creeps me out every time I visit because you can feel spirits that are not at peace.
I eventually moved to California in the late 80s and landed in Long Beach since my dad was in the Navy. So I grew up in the LBC, attended Poly High School (notable alums such as Snoop Dogg, Nate Dogg, Warren G, Cameron Diaz, Tony Gwynn, Chase Utley, DeSean Jackson, Willie McGinest, Billie Jean King, and Carl Weathers aka Apollo Creed aka Chubbs Peterson from
Happy Gilmore
), and went to college at CSU Long Beach.
I'm currently sitting on my couch, watching yesterday's Laker game, in Long Beach.
What do you do?
I'm the Executive Director at Visual Communications, a media arts center that develops and supports the voices of Asian American and Pacific Islander filmmakers and media artists. One of our major programs is the annual Los Angeles Asian Pacific Film Festival. What we make happen is we create spaces where our communities can connect with each other.
What are you all about?
I'm all about connecting with people and making things happen. Having awesome people in my life makes me happy.
What makes you angry?
Not-so-awesome people make me angry.
Yesterday was the shooting at San Bernardino and all my gun-nut friends on Facebook can talk about is how the government is going to take their guns away, how gun laws don't work in California, and whatever rhetoric they care to spew out.
While writing this, I came across the
L.A. Times article
that told of who the shooting victims were: mothers, fathers, husbands, wives, sons, daughters, brothers, sisters.
All this happens and all you think about is defending your right to own guns instead of thinking about solutions to the problem? FOH.
Oh, inconsiderate drivers make me angry.
Inconsiderate parkers make me angrier.
FACEBOOK