Also, someone called the cops on them for being brown and standing next to a car.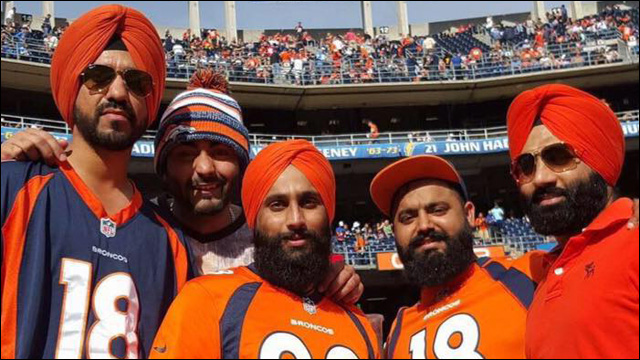 More idiocy in the name of "safety." In San Diego, three Sikh football fans say they were harassed and nearly barred by security from entering Qualcomm Stadium on Sunday because they were wearing turbans.
Fans: We were hassled at Qualcomm stadium over our turbans
Varinder Malhi and his friends drove seven hours from Fresno to see the Denver Broncos play the San Diego Chargers. They were decked out in Broncos jerseys, hats and other fan gear, right down to the color-coordinated turbans they were wearing in accordance with their Sikh faith.
But when they tried to enter the stadium, security guards told Malhi and his friends that they couldn't enter the game unless they removed their turbans. They were ultimately allowed in, but were warned they wouldn't be able to wear their turbans again if they ever returned to the stadium.
On top of that, some overly nervous fan apparently got jumpy and called the cops when they saw Malhi and his turbaned friends in the parking lot, rummaging in the trunk of a car. They were just putting a bag back in the car when they realized they couldn't bring it inside the stadium.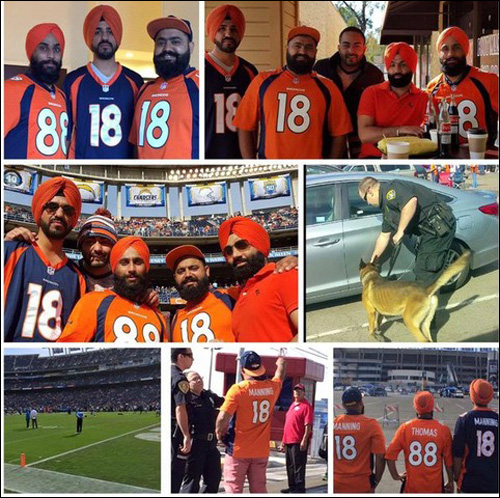 Someone at the game called San Diego police to report the men were rummaging in the trunk of a car and then left the parking lot, police told ABC San Diego.

A bystander took a photo of a bomb-sniffing dog inspecting the vehicle and sent it to the TV station. Malhi said the men had put a bag into the trunk after realizing they couldn't bring it inside the stadium.

"It's bad, I mean, this is embarrassing for me, because we are Americans at the end of the day," Malhi told ABC. "And we are not supposed to be afraid of fellow Americans."

Seriously? Calling the cops because four brown guys in turbans are standing next to an open trunk? They actually brought in a bomb-sniffing dog to check the car.
And can someone tell me how turbans pose a security risk amidst a 70,000+ capacity stadium full of people also wearing hats and beanies? Turbans clearly can't be that big of a risk -- officials ultimately let Malhi and his friends enter the game. So what is even the point of prohibiting them from wearing turbans on their next visit?
That is some discriminatory shit, straight up.
The city is reportedly looking in to the matter but the security supervisor is not a city employee.
More here:
Football-Loving Americans Harassed For Wearing Turbans To NFL Game
FACEBOOK