16-year-old JiaJia Liang, slashed in the face and neck, was apparently not the intended target.
What the freaking hell? In Queens, a note found on a vandalized car this week apologizes for the slashing attack on a teenage girl last month and admits that the victim was not the intended target.
Letter Admits Wrong Victim Was Slashed In Whitestone, Queens, Threatens Intended Target
16-year-old JiaJia Liang was
slashed in the face
while she was on her way to school last month in Whitestone. Surveillance video showed the 11th grader, who is an exchange student from China, approached from behind and attacked by a man wearing a surgical mask and gloves. He had apparently been following her.
But a letter from the supposed attacker, left in the windshield of a vandalized car on Monday night, says that the "wrong" person was attacked, and promised that the correct teen would soon lose her "beautiful face." The intended target was apparently another 16-year-old girl who lived in the same house as Liang.
Three weeks after a Chinese exchange student was slashed while walking to school, a letter from her supposed attacker said the girl was mistakenly targeted — and he would return to carve up the right teen.

"I know a lot about you b----," sources quoted from a letter left Monday on a car windshield outside the second girl's home. "Stop being a slut ... You f---ed with the wrong person."

The malicious, expletive-laden missive also promised the 16-year-old Queens girl that her "beautiful face" would soon be gone, the sources said.

The letter came inside an envelope with the girl's name - and bizarrely included a happy birthday greeting. The note was signed "The guy you should never f--- over," the sources indicated.

According to CBS New York, the letter was written on behalf of the second teen's jealous boyfriend, who is now in jail. Police also have surveillance video of two suspects vandalizing the vehicle outside the girl's home. Anyone with information is asked to call 1-800-577-TIPS.
More here:
Chilling letter says teen exchange student attacked in Queens last month was wrong target, right teen will lose 'beautiful face'
Police say that no arrests have been made and the investigation is still ongoing.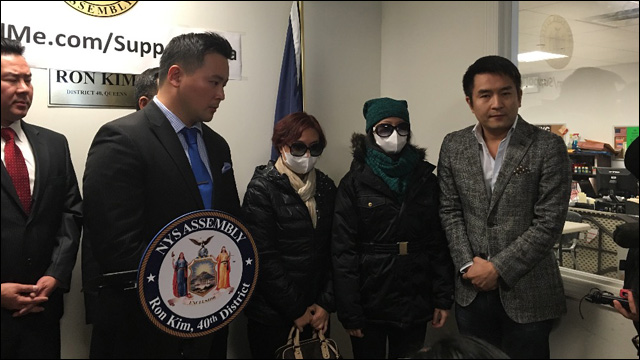 Meanwhile, Liang, who received 200 stitches to close the wounds on her face and neck, says she isn't going to let the attack scare her back to China. On Thursday, during a press conference at Assemblyman Ron Kim's office, Liang said she intends to stay and pursue her education.
Kim's office has started an
online fundraiser
to support Liang's recovery.
More here:
Queens Slashing Victim Says She'll Stay to Pursue Education
FACEBOOK