Library of Congress names award-winning graphic novelist to promote youth literacy.
This is so cool. The Library of Congress has named Gene Luen Yang the National Ambassador for Young People's Literature -- the first graphic novelist to be so honored since the post was created in 2008.
Gene Luen Yang Is Next Ambassador for Young People's Literature
Gene is the acclaimed, award-winning author of
American Born Chinese
(2006), finalist for the National Book Award and winner of the Michael L. Printz Award. His other books include
Boxers & Saints
(2013),
The Shadow Hero
(2014) and
Secret Coders
(2015). He currently works on
Superman
for DC Comics.
The National Ambassador for Young People's Literature raises national awareness of the importance of young people's literature as it relates to lifelong literacy, education and the betterment of the lives of young people.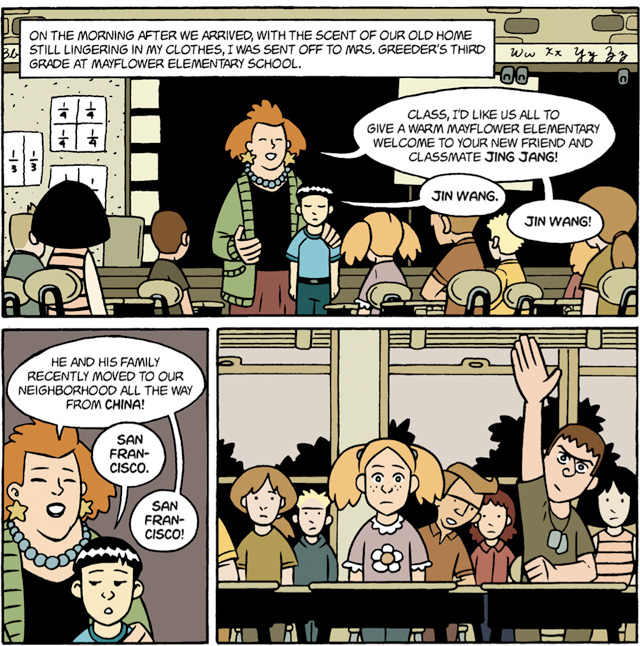 American Born Chinese
During his ambassadorship, Gene will promote "Reading Without Walls," a platform he developed with the Children's Book Council and his publisher, First Second, that aims to excite young people about reading outside their comfort zones. "By reading, we get to know people outside our own communities," Gene tells the
School Library Journal
. "We gain knowledge that others don't expect us to have."
Not bad for a guy started off drawing comics as a kid.
Mr. Yang, 42, the son of Chinese immigrants, grew up in the San Francisco Bay Area. He began drawing at 2, he said, and "I basically never stopped." His gateway for comic books was Superman, which he began reading in fifth grade. Marvel's Fantastic Four and Spider-Man soon followed. He started creating his own comics. "I was always interested in telling stories through drawings," he recalled.

At the University of California, Berkeley, Mr. Yang majored in computer science partly to please his father, who wanted him to pursue something practical, and minored in creative writing. He worked as a computer engineer for two years after graduating and then began teaching computer science at a high school, a job that lasted 17 years. He gave it up only when his travels in support of his books began to involve too much time away.

Gene will serve a two-year term as ambassador beginning January 7, when he'll be inaugurated at a ceremony at the Library of Congress. His duties will include traveling around the country to speak to children, teens, parents, teachers and librarians about how reading is a vital part of our lives. Spread the good word, Gene.
More here:
Library of Congress Anoints Graphic Novelist as Ambassador for Young People's Literature
FACEBOOK