62-year-old John Schenone was found guilty of misdemeanor vandalism and hate crime charges.
Gotcha, sucka. On Thursday, the man arrested for spray-painting anti-Chinese graffiti --
"NO MORE CHINESE"
-- around southeast San Francisco was found guilty of hate crime vandalism.
S.F. man convicted of hate crimes in anti-Chinese graffiti case
62-year-old John Schenone was convicted of seven misdemeanors counts vandalism and six misdemeanor counts of a hate crime by way of defacing property in connection to the racist graffiti discovered last fall.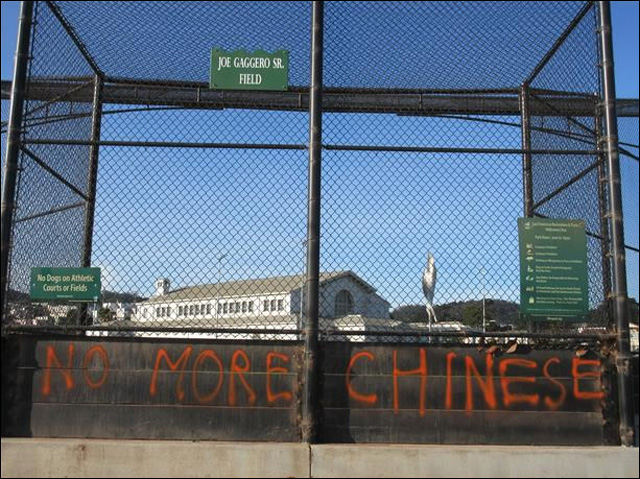 In September, several occurrences of orange graffiti reading
"NO MORE CHINESE"
were discovered at sites around the city's Portola and Bayview neighborhoods. With matching paint and penmanship, they were all clearly done by the same culprit, leaving people wondering: who the hell is the racist in our neighborhood?
Schenone was eventually caught when investigators identified the same distinctive 1980s model white pickup truck -- Schenone's -- in surveillance videos of two of the vandalized locations. Police found the truck and paint at Schenone's home. Dude was arrested, and subsequently provided the hate crime-iest mug shot of all time.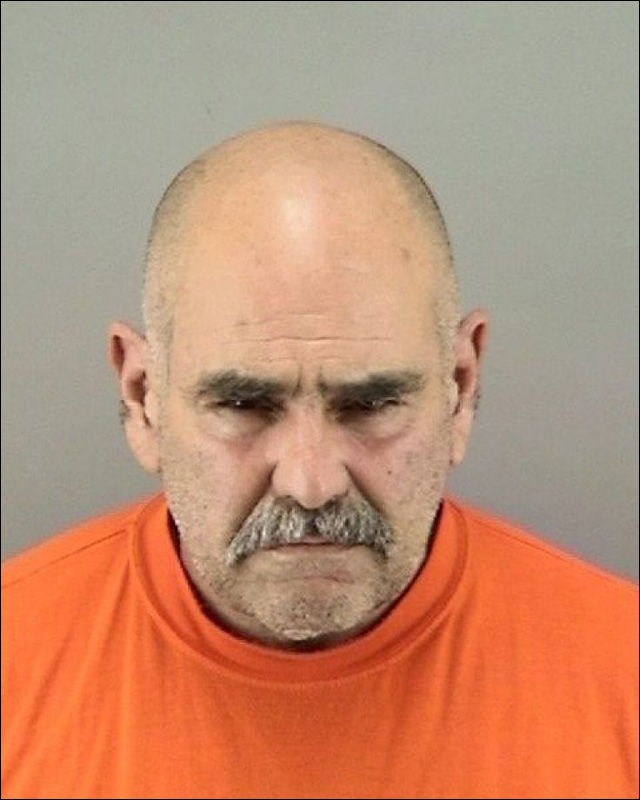 No way. This guy committed a hate crime?
The part I find most interesting is that Schenone was represented by an Asian American attorney. Deputy Public Defender
Bonnie Chan
said she planned to appeal the verdict and file a motion for a new trial.
"We all have a Constitutional right to express our opinions, however unpopular they may be with the public," Chan said. "Mr. Schenone did not threaten, target, or physically harm a single person. Like it or not, racism alone is not a crime. From the beginning, this case has been based on emotions rather than law. That's why a judge reduced the charges from felonies to misdemeanors."
I know it's his court-appointed attorney's job to say this, but that's bullshit.
Schenone is scheduled to return to court on February 5 for sentencing.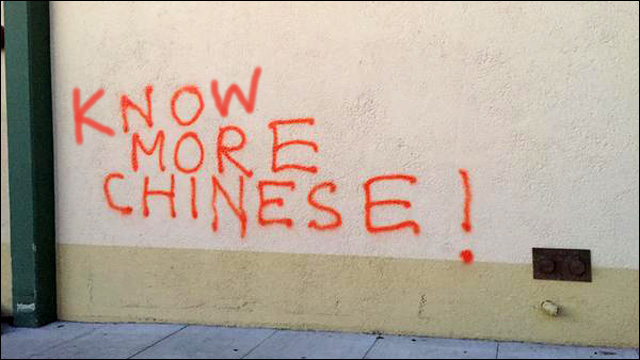 Personally, I still prefer
our fix
of Schenone's handiwork.
More here:
San Francisco Man Convicted of Misdemeanor Vandalism, Hate Crime Charges for Anti-Chinese Graffiti
FACEBOOK