Wu is the first Asian American and third woman in history to hold the seat.
In Boston, the City Council voted unanimously Monday afternoon to elect at-large councilor Michelle Wu its next president, making her the first Asian American and third woman in history to hold the seat.
Michelle Wu elected president of Boston City Council in landmark vote
Wu, 30, was first elected to Boston City Council At-Large in 2013, becoming the first Chinese American and first Asian American woman to serve on the council, as well as the youngest current member. She was re-elected to an at-large seat in November.
On Monday, Wu was voted Boston City Council President by the 13-member council. She replaces South Boston Councilor Bill Linehan, who was term limited from seeking the body's presidency again.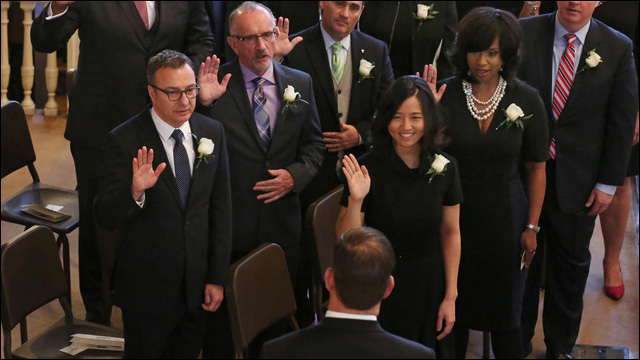 In her acceptance speech, Wu stressed the council's role in creating policies that reflect councilors' own lives.
"In this chamber, every debate is informed by our families' lives and those of our constituents," she said. "We don't just think and talk about policy here, but feel the challenges and impacts."
Wu, a former law student of Sen. Elizabeth Warren -- who was in attendance to congratulate Wu after Monday's landmark vote -- said the council will take action on income inequality, criminal justice system reform, improved educational opportunities, and preparing for climate change.
"We're sworn in today at a time of historic inequality. This lack of opportunity has to led to stark divisions in Boston," Wu said. "It is against this backdrop that the work of city government is more vital than ever."
More here:
Michelle Wu Elected Boston City Council President
FACEBOOK