Hossein Nayeri and Jonathan Tieu were apprehended after their van was spotted in a Whole Foods parking lot.
All three of the inmates who broke out of an Orange County jail more than a week ago, launching a statewide manhunt, are back in custody. One of the men turned himself in on Friday, while the other two escapees were apprehended in San Francisco on Saturday after a citizen who recognized their vehicle tipped off police.
Man tipped police to jail escapees' stolen van in S.F. parking lot near Whole Foods
37-year-old Hossein Nayeri and 20-year-old Jonathan Tieu were captured on Saturday morning after a citizen in San Francisco alerted police officers about a suspicious person and a vehicle, matching the description of a stolen white van associated with the fugitives, in a Whole Foods Market parking lot.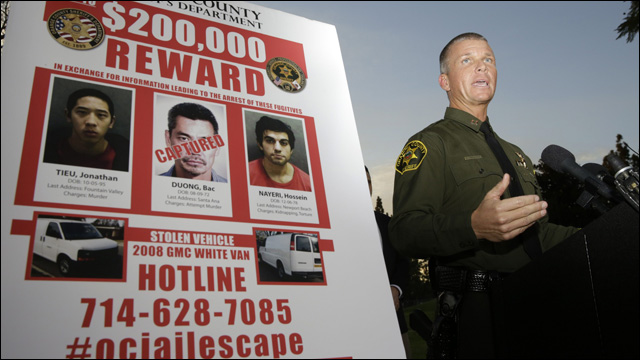 Police first located Nayeri and apprehended him after a short foot pursuit. Officers then searched the van and found Tieu hiding inside. Both men were taken to the San Francisco County Jail.
The arrests unfolded just before 9 a.m. Saturday, when San Francisco police said the citizen approached officers about a suspicious person and vehicle. (The Orange County sheriff initially identified the tipster as a woman, but San Francisco police clarified later that the citizen was a man.)

Officers quickly found Nayeri, who took off running when he caught sight of the officers, Gatpandan said. Nayeri ran toward a lake and around Kezar Stadium and then back toward the Park District Police Station, she said.

"Officers broadcast there was a foot pursuit and officers came out of the park station to assist," Gatpandan said.

The van was discovered near Haight and Stanyan streets, authorities said. Tieu was concealed inside and taken into custody. Investigators believe the men lived out of the van for days.

43-year-old Bac Duong
surrendered to Santa Ana Police
on Friday.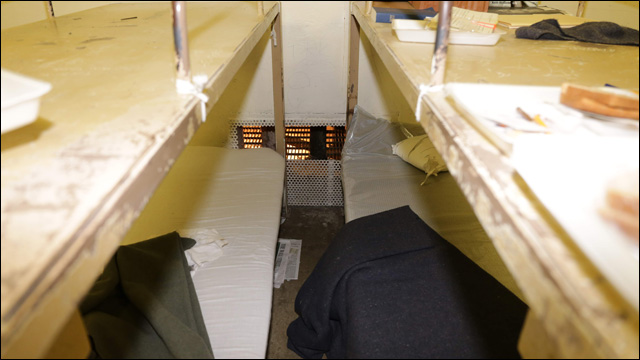 The three inmates broke out of the maximum security Orange County Men's Central Jail in Santa Ana on January 22. The trio reportedly cut through four layers of steel, forced their way into a plumbing tunnel and an airduct, and used a makeshift rope to rappel down the side of the multistory facility from the roof.
Tieu was in jail awaiting trial on a murder charge and attempted murder in an allegedly gang-related attack. According to authorities, he is a member of a Vietnamese gang.
Nayeri has been accused of kidnapping and attacking a man, pouring bleach on him, setting the victim on fire, severing his penis and leaving him to die in the desert.
Duong was to be tried on an attempted murder charge.
44-year-old Nooshafarin Ravaghi, an English as a second language teacher who worked at the jail, was arrested Thursday on suspicion of being an accessory to the jail escape. She is accused of providing "critical planning tools," including Google Earth images of the jail, to the inmates.
Investigators are trying to determine whether anyone else helped the the trio in the time since they escaped.
I wonder what they talked about on the drive up to the Bay Area. It has the makings of a road comedy.
More here:
Citizen Tipped Police to Fugitives' Stolen Van in S.F. Parking Lot Near Whole Foods Before Capture: OCSD
FACEBOOK