New report on diversity in the entertainment industry tells us all the things we already knew.
Surprise: Hollywood is a "straight white boys club," according to a new study of the entertainment industry. File this one under shit we've known forever, but it's certainly always nice to have the numbers to back it up.
From C-Suite to Characters on Screen: How inclusive is the entertainment industry?
A new report from USC's Annenberg School for Communication and Journalism takes an exhaustive look at the state of diversity in Hollywood, and determines that films and television produced by major media companies are "whitewashed" and that there is an "epidemic of invisibility" in the industry when nit comes to women, minorities and LGBT people. Again: shit we already knew, but thank you for confirming.
The study, entitled
The Comprehensive Annenberg Report on Diversity
, includes an "inclusivity index" based on 414 stories produced by ten companies through movies, television and digital platforms. It involved more than 11,000 speaking characters as well as 10,000 behind-the-scenes creators and 1,500 executives.
The report paints a portrait of pervasive underrepresentation.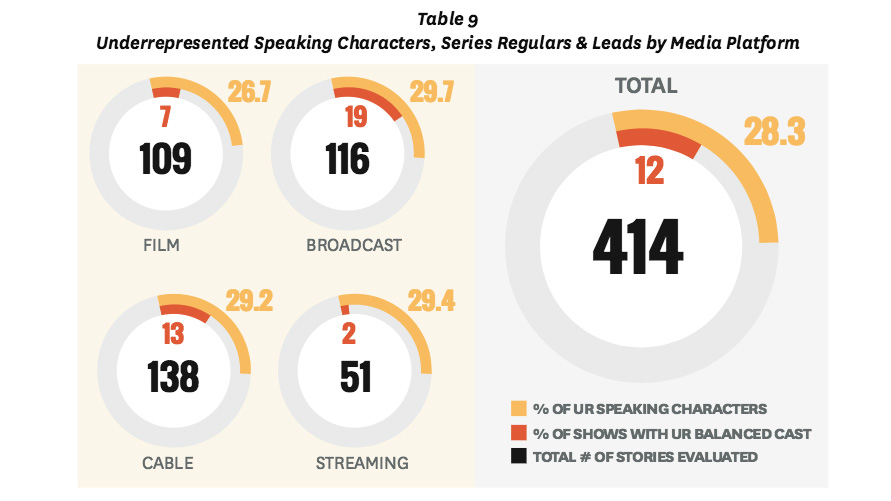 In 109 films and 305 scripted, first-run TV and digital series, the study found that only a third of speaking characters were female, and only 28 percent were from underrepresented racial/ethnic groups -- about 10 percent less than the proportion of the U.S. population.
When it comes to Asian representation, we're just plain absent. According to the report, Asians made up only 2.3% of all speaking or named characters. At least half or more (52%) of all film, television or streaming series fail to portray a single speaking or named Asian or Asian American character on screen.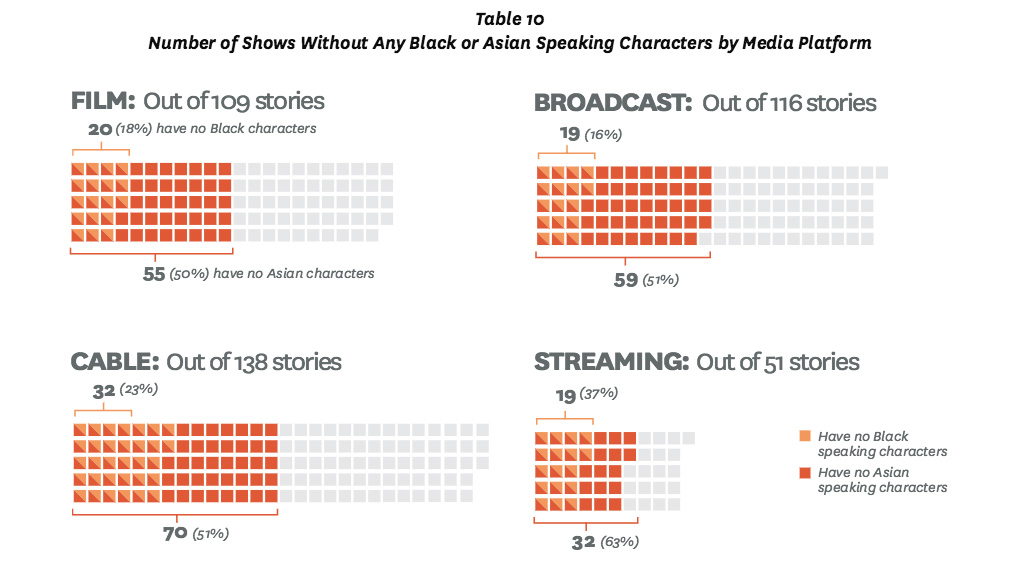 When it comes to leading characters in film, 21.8% were coded as underrepresented, which is 16.1% below U.S. Census. And out of those underrepresented leads, only 6.3% were Asian.
As for television and digital content, only 26.6% of series regulars were from underrepresented racial/ethnic groups. The study doesn't break down the percentage of Asian or Asian American series regulars, but it does note that the gender distribution within the Asian group breaks down at about 63.4% male and 36.6% female.
Overall, it's a pretty bleak, damning portrait of diversity in Hollywood. The report calls it an "inclusion crisis." I call it, "a painful truth I have been acutely aware of my entire life as an Asian American media consumer."
You can read the full report
here
.
More here:
Damning study finds a 'whitewashed' Hollywood
ADVERTISEMENT