Tiffany Chang wasn't letting this thief take her laptop without a fight.
Not the actual burglar.
When Tiffany Chang walked in on a burglar breaking into her Brooklyn apartment, and saw that he was trying to make off with her laptop and other valuables, she was like,
oh hell no
. She fought back -- and won.
Brooklyn Woman Catches Burglar on Fire Escape, Fights Him
On Wednesday in Williamsburg, a thief climbed a fire escape and snuck into Chang's bedroom window. She walked in from the other room to discover the man halfway out the fire escape holding her laptop.
But Tiffany wasn't letting him take it without a fight.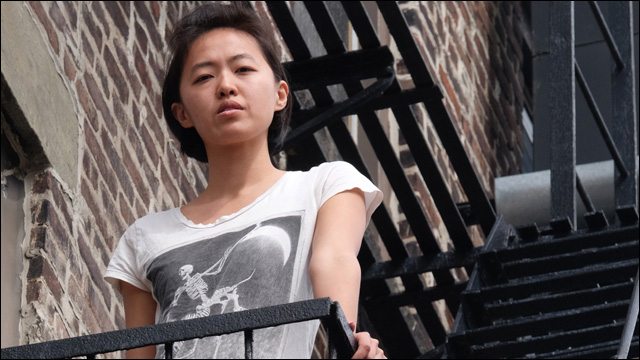 Tiffany Chang (Photo Credit: New York Post)
Face to face with a stranger in her bedroom, her first impulse was to
get her shit back
. She made a grab for the laptop and managed to wrestle it out of the thievin' sucker's hands.
"I asked him, 'Are you kidding me?' and he looked at me and kind of smiled and froze," Chang told CBS New York. "So in that moment I thought if he was dangerous he should have done something. I don't think he expected me to reach forward because when I grabbed it, his hands let loose for a second."
The burglar took off down the fire escape, and managed to get away with Chang's cell phone and some heirloom jewelry, including two gold rings and a diamond and sapphire necklace.
Thankfully, nobody was seriously hurt.
While the NYPD recommends getting to a safe place and calling 911 if you ever encounter a burglar, Chang says "a lot of indignation" drove her to confront the thief. This was clearly personal for her.
"I've been robbed a few times before," she told NBC 4 New York, "I feel great about doing this. It's been empowering in a lot of ways."
More here:
Brooklyn Woman Fights Burglar Heading Out Of Her Room On Fire Escape
FACEBOOK