Class action victory represents one of the largest wage justice settlements in Asian American history.
After more than a decade of hard-fought litigation, more than 200 past and present employees of China Daily News, one of the country's biggest Chinese language newspapers, obtained a $7.8 million settlement for multiple alleged labor violations.
The class action victory represents one of the largest wage justice settlements in Asian American history.
The suit alleged that Chinese Daily News, known in the Chinese community as World Journal, routinely subjected employees to unfair labor practices including violations of wage laws.
Workers said they were often forced to work 12-hour shifts six days a week without the required rest break. They were not paid overtime, nor were they allowed to report the actual number of hours they worked. The paper also denied workers proper holiday pay.
The original lawsuit stretches back to 2004, when three workers -- including a reporter and sales agent -- sued the Monterey Park-based newspaper over the alleged labor abuses. The suit was certified as a class action, eventually ballooning to more than 200 newspaper workers.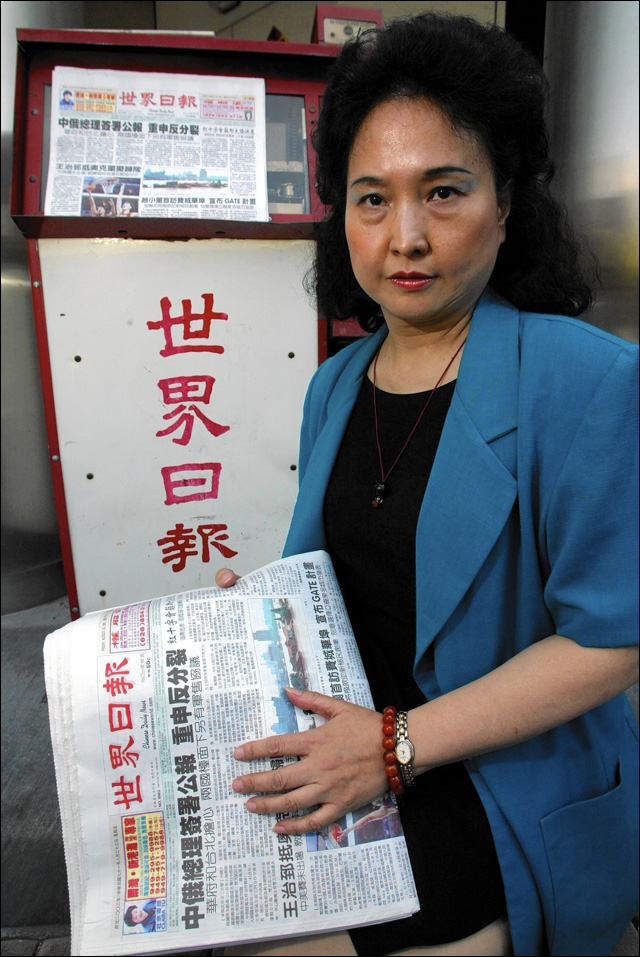 Lynne Wang, one of the original plaintiffs in the lawsuit against Chinese Daily News, in 2002.
The long road of litigation included two trials and multiple appeals. In 2008, a U.S. district judge in Los Angeles ordered the paper to pay those workers more than $3.5 million in damages and penalties in addition to more than $1.5 million interest. But the case got stalled in appeals courts for years.
Finally, after twelve years of litigation, Chinese Daily News decided to settle the suit. The settlement was reached last year, but it was only approved by a judge last month.
Journalist Lynne Wang was one of the original plaintiffs who helped organize a union at the paper. She worked at the newspaper as a reporter for 18 years, but was fired in 2005 after giving a deposition for the lawsuit.
"I was fired from the company, but I knew that we were right, and the company was wrong," Wang says. "After more than 10 years of litigation, and after Chinese Daily News spent millions of dollars in legal fees to fight us, we finally have won our court case."
The groundbreaking settlement includes
cy pres
awards to fund clinics dedicated to serving workers in the Asian American community in the San Gabriel Valley and throughout Los Angeles County.
More here:
Chinese Daily News agrees to pay $7.8 million to settle labor dispute
FACEBOOK