Former NYPD officer was convicted of second-degree manslaughter in the fatal shooting of Akai Gurley.
On Wednesday, the Brooklyn District Attorney's office announced that it would not seek prison time for former NYPD police officer Peter Liang when he is sentenced for the shooting death of Akai Gurley.
Prosecutor Won't Seek Prison for Peter Liang, Ex-Officer Convicted in Killing
Instead of jail time, Brooklyn District Attorney Kenneth Thompson advised that Liang serve five years' probation and six months of home confinement with electronic monitoring, and perform 500 hours of community service.
The rookie officer and his partner were conducting a vertical patrol in a stairwell in the Louis H. Pink Houses in Brooklyn on November 20, 2014, when Liang's gun fired and a ricocheting bullet struck and killed 28-year-old Akai Gurley, who was visiting his girlfriend.
Last month, Liang was found guilty of second-degree manslaughter and official misconduct, and could be sentenced to as much as 15 years in prison.
In a statement, Thompson said there was no evidence to support the idea that Liang "intended to kill or injure" Gurley and that sending Liang to prison "is not necessary to protect the public."
"Peter Liang was indicted, prosecuted and subsequently convicted by a jury because his reckless actions caused an innocent man to lose his life. There is no evidence, however, that he intended to kill or injure Akai Gurley. When Mr. Liang went into that building that night, he did so as part of his job and to keep the people of Brooklyn and our city safe.

In sentencing a defendant, the facts of the crime and the particular characteristics of that person must be considered. Mr. Liang has no prior criminal history and poses no future threat to public safety. Because his incarceration is not necessary to protect the public, and due to the unique circumstances of this case, a prison sentence is not warranted.

Justice will be best served if Mr. Liang is sentenced to five years of probation, with the condition that he serves six months of home confinement with electric monitoring and performs 500 hours of community service. I have provided this sentencing recommendation to Justice Chun.

As I have said before, there are no winners here. But the sentence that I have requested is just and fair under the circumstances of this case. From the beginning, this tragic case has always been about justice and not about revenge."

Mr. Gurley's family denounced the prosecutor's decision.
"We are outraged at District Attorney Thompson's inadequate sentencing recommendation," the family said in a statement. "Officer Liang was convicted of manslaughter and should serve time in prison for his crime. This sentencing recommendation sends the message that police officers who kill people should not face serious consequences. It is this on-going pattern of a severe lack of accountability for officers that unjustly kill and brutalize New Yorkers that allows the violence to continue."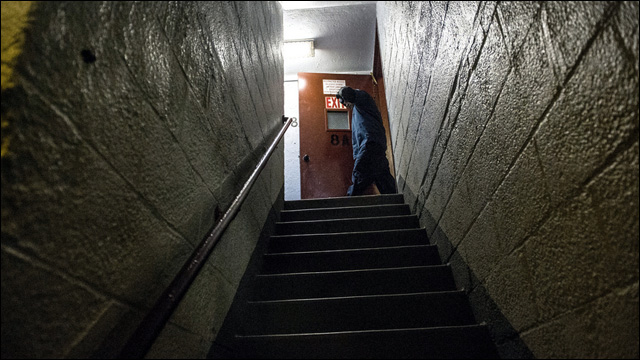 The public housing stairwell where Akai Gurley was killed.
Loyda Colon, co-director of the Justice Committee, a group that supports Gurley and his family, said that the sentencing recommendation does not adequately hold Liang accountable for his actions.
"Liang entered a stairwell in the Pink Houses with his gun drawn -- against NYPD protocol," she said in a statement. "He shot unarmed Akai Gurley, who was doing nothing wrong. Then he attempted to cover up his wrongdoing rather than assist Gurley, who lay dying on the floor. These are criminal actions, for which Liang should be held accountable."
In a statement, Mr. Liang's lawyers said, "Although we disagree with Mr. Thompson on the fundamental issue of Peter Liang's culpability, he deserves praise for his dispassionate and courageous decision that incarceration is not called for in this case."
The District Attorney's statement, which was accompanied by a formal sentencing letter filed with the court, is only a recommendation to Justice Danny Chun, who presided over Mr. Liang's trial and is scheduled to sentence Liang on April 14.
More here:
Brooklyn DA Recommends No Jail Time For Ex-Cop Peter Liang In Shooting Death Of Akai Gurley