And now the full whitewash cycle is complete.
So this is really happening, huh? Production has begun on DreamWorks and Paramount Pictures' live-action adaptation of
Ghost in the Shell
, based on the classic manga series by Masamune Shirow. And here is your first look at Scarlett Johansson as the character they're calling "The Major." I guess they didn't have the guts to refer to her by the character's original name: Major Motoko Kusanagi.
And now the full whitewash cycle is complete.
According to the studio's press release,
Ghost in the Shell
follows the Major, "a special ops, one-of-a-kind human-cyborg hybrid, who leads the elite task force Section 9. Devoted to stopping the most dangerous criminals and extremists, Section 9 is faced with an enemy whose singular goal is to wipe out Hanka Robotic's advancements in cyber technology."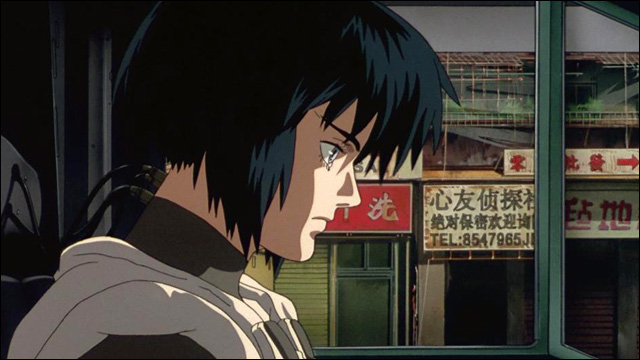 So is this movie set in Japan? Previously released loglines have referred to Johansson's character as "a female member of the Japanese National Public Safety Commission's covert ops unit, which specializes in fighting technology-related crime." If so, is the Major supposed to be Japanese?
Or perhaps she's a white cyborg cop who just happens to work for the Japanese government. Or perhaps she's a Japanese cop who got fitted with a Caucasian cyborg body (because in the future, that happens). At this point, does it really matter? However they justify this shit, it goes to show, once again, that Hollywood can always find a reason, no matter how far-fetched, to center the movie around a white hero.
The
Ghost in the Shell
cast also includes Takeshi Kitano as Daisuke Aramaki, Juliette Binoche as Dr. Ouelet, Michel Pitte as Kuze, Pilou Asbæk as Batou, and Kaori Momoi. The members of Section 9 are played by Chin Han, Danusia Samal, Lasarus Ratuere, Yutaka Izumihara and Tuwanda Manyimo.
As I've said before, you can fill out the rest of the cast with as many secondary and background Asian character as you'd like, and techno-Japan-ify the hell out of the production; it still doesn't change the fact that Motoko Kusanagi -- sorry, "The Major" -- is white.
Ghost in the Shell
is set for release on March 31, 2017.
More here:
First Look: Scarlett Johansson In Anime Adaptation 'Ghost In The Shell'