East West Players and JACCC will present the Los Angeles premiere of the Broadway musical in 2018.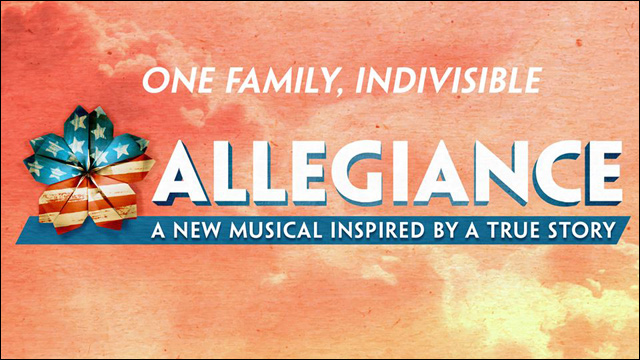 Allegiance
is coming to Los Angeles next year. East West Players and the Japanese American Cultural and Community Center will present the Los Angeles premiere of the Broadway musical
Allegiance
, with performances at JACCC's Aratani Theatre in Little Tokyo. from February 21 to April 1, 2018. Previews will run from February 21-25, with the Opening Night performance and reception on February 28.
With music and lyrics by Jay Kuo and a book by Marc Acito, Kuo, and Lorenzo Thione,
Allegiance
is inspired by the true childhood experiences of actor, activist and social media icon George Takei. The original Broadway production played on Broadway from 2015-16 at the Longacre Theatre in New York City.
Allegiance
tells the story of the Kimura family, whose lives are upended when they and 120,000 other Japanese Americans are forced to leave their homes following the events of Pearl Harbor. Sam Kimura seeks to prove his patriotism by fighting for his country in the war, but his sister, Kei, fiercely protests the government's treatment of her people. An uplifting testament to the power of the human spirit,
Allegiance
follows the Kimuras as they fight between duty and defiance, custom and change, family bonds and forbidden loves.
Snehal Desai, Artistic Director of East West Players, says the contemporary relevance of
Allegiance
's themes made it important to partner with JACCC and the show's original producers to bring the musical to Los Angeles and stage it in Little Tokyo
"This year marks the 75th anniversary of the signing of Executive Order 9066, which led to the forced removal of Japanese Americans during World War II. In this politically charged climate, the story of
Allegiance
resonates with timeliness and urgency," Desai says. "We are thrilled to share this courageous story inspired by the Co-chair of EWP's Council of Governors, George Takei."
"As Japanese Americans, we need to continue to share our history during World War II and the violation of civil rights through mass incarceration so that as a country, we do not repeat these injustices," says JACCC President and CEO Leslie A. Ito. "I can think of no better way to tell these human stories and share them with a wider public than through musical theatre."
"It's particularly special for
Allegiance
to return to Little Tokyo in Los Angeles, where its first readings were held and where this story has its richest legacy," says producer Lorenzo Thione. "We look forward to this new production as one that will build on the Broadway production to bring
Allegiance
to smaller theaters, schools, and every place in the world where the need to remember this story is greater now than ever."
No word yet if any members of the original cast, including George Takei, will appear in the Los Angeles run, but casting as well as ticketing information will be announced soon. For updates, visit
East West Players
.