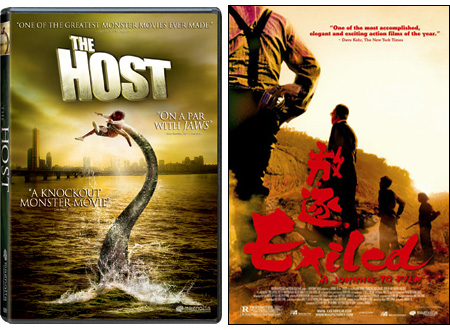 Master auteur Johnnie To's
Exiled
opens in select theaters this Friday. It's one of those kickass Hong Kong gangster dramas Johnnie To has made a name for himself doing. Go
here
to see when/where it's playing at a theater near you. Great stuff. So, to celebrate the release of
Exiled
, as well as the recent DVD release of Bong Joon-Ho's
The Host
, how about another giveaway? I know everybody likes some free stuff. We've got some goodies here courtesy of the good folks from Magnolia Pictures. Five random lucky winners will get a shiny new
Exiled
poster and a DVD copy of the hit South Korean monster movie
The Host
. You like that? But you're going to have to answer two questions...
1)
Exiled
is the pseudo-sequel to what 1999 Johnnie To film?
2)
What is your favorite gangster film, Asian or otherwise? (No wrong answer for this one.) That's it.
Email me
your answers, along with your name and mailing address, by the end of Monday, September 3rd. And please include
"EXILED GIVEAWAY"
in the subject line. Entries that do not follow these simple directions will get thrown out. I'll throw all the correct responses in a hat and pick five winners. Easy. So get your entries in, and watch
Exiled
this Friday in theaters.