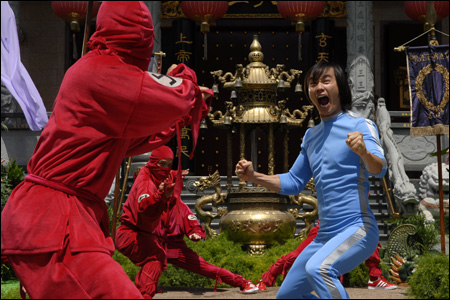 All right, friends.
Finishing the Game
is coming, and it's coming soon in a big, big way. Justin Lin's indie mockumentary about the search for a replacement Bruce Lee makes its world theatrical premiere next week, October 5th, exclusively at the
IFC Center
in New York. Watch the awesome trailer
here
. The people that brought you
Better Luck Tomorrow
are back and at it again, trying to get the word out about this film and send a message to Hollywood that there is indeed a genuine audience for Asian American films. The "
BLT
/
Finishing the Game
Family" has embarked on a grassroots campaign to spread the word, and they need your help. Consider yourself informed. This is the first of many announcements to come. Yes, I'm joining the hype train. For now, get yourself up to speed with all the news, video, photos and info on
Finishing the Game
over at the official site,
You Offend Me You Offend My Family
. Also check out the movie's
MySpace
page and
Facebook
group. Start spreading the word!