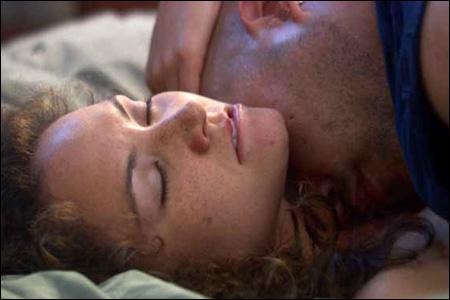 UPDATE: I'm giving away five pairs of tickets to see
Tre
this weekend in West Hollywood or Pasadena. Scroll down to the bottom of this post for details.
If you're in Southern California, here's a very intriguing film you might want to check out... tomorrow's the theatrical premiere of Eric Byler's drama
Tre
, the follow-up to his critically acclaimed 2003 film
Charlotte Sometimes
. If ths one's anything like
Charlotte
, you know
Tre
is going to be a very intriguing, challenging film about complex human emotions, relationships, and sex.
It opens Friday, February 1 at Laemmle's Sunset 5 in West Hollywood and Laemmle's One Colorado in Pasadena. View the trailer
here
. Here are some more details:
Eric Byler's new film " T R E " opens Friday Feb. 1st at Laemmle's Sunset 5 and Laemmle's One Colorado

THEATRICAL TRAILER:
Video: http://www.youtube.com/watch?v=9Fm6z7Rpjjw

SYNOPSIS
Tre arrives unannounced at a secluded mountain home where his friends Gabe and Kakela allow him to crash on their couch. But Kakela becomes increasingly annoyed with Tre when he begins a revenge-fueled sexual affair with her best friend, Nina. As Kakela watches Nina's marriage unravel, she begins to question her devotion to Gabe. Unsure of her motives, she accepts a dare devised by Tre -- a simple 10-second experiment that changes her life forever.

Sexual competition and moral ambiguity are the only constants in Eric Byler's searing follow-up to his critically acclaimed 2003 Independent Spirit Award nominated film, "Charlotte Sometimes," the sexy anti-romance celebrated by film critic Roger Ebert as a "breakthrough for Asian American cinema."

"Tre" was co-written by Byler and lead actress Kimberly-Rose Wolter (Charlotte Sometimes) and stars Daniel Cariaga, Alix Koromzay and Erik McDowell. Winner of the Special Jury Award at the San Francisco International Film Festival, scored by Michael Brook (Charlotte Sometimes, Inconvenient Truth, Americanese), shot by Rob Humphreys (Charlotte Sometimes, Americanese, Dopamine).

Laemmle's Sunset 5
8000 Sunset Blvd. West Hollywood, CA 90046
323.848.3500
SHOWTIMES: 12:30, 2:45, 5:10, 7:30 & 9:55
DIRECTOR and CAST Q/A's at Sunset 5:
- Friday, February 1st after 7:30pm show
- Saturday, February 2nd after 5:10pm & 7:30pm shows
Buy Tickets Online

Laemmle's One Colorado
42 Miller Alley, Old Pasadena, CA 91103
626.744.1224
SHOWTIMES: 12:45, 3:00, 5:25, 7:40 & 10:00
CAST AND CREW Q/A AT LAEMMLE ONE COLORADO
- Saturday following the 7:40 pm (cinematographer Rob Humphreys and writer/actor Kimberly-Rose Wolter)
- Sunday, February 3rd after 3:00pm & 5:25pm shows (Director Eric Byler and writer/actor Kimberly-Rose Wolter)

DIRECTOR'S STATEMENT:
"'TRE' is painted on a more poetic, less political canvas for me. In life as with art, my aim is to give voice to those who find their self-identity challenged by a narrowing definition of what it means to be American. For the Asian American community (as well as the Latino community), there is a strong interconnection between the representation we seek in mainstream media and the representation we seek from our government. If you don't like the representation afforded you, you must seize the reigns yourself. In this way, my artistic and political endeavors are two sides of the same coin: one side has more political discourse, the other side has more sex scenes." — Eric Byler Jan. 2008

BYLER COMMUNITY STATEMENT:
"The all-Asian cast I chose for "Charlotte Sometimes" confused some viewers because they had come to expect an overt political commentary when confronted with ethnic faces in American films. My follow-up "Tre" feature mixed Asian ("hapa") romantic leads and also ignores ethnicity, favoring humanity as its focus and theme. At its core, "Tre" is an exploration of how the idea of love, and our near religious faith in it, can lead us to make promises we don't intend to keep, to covet what is not ours, and to submit to impulses and compulsions we may spend the rest of our lives regretting. This can be true for an Asian American, a half Asian, or any person for that matter. In a sense, "Tre" reasserts the right of ethnic artists to tell stories about our communities without focusing on the issue of race…without political agenda. You might say that claiming this right is an artistic agenda with political implications." — Eric Byler Jan. 2008
So if you're interested in taking your date to the very very opposite of a romantic comedy, go check out
Tre
. And be ready to have a really challenging discussion afterwards. To learn more about the movie, visit the official website
here
. For those of you in other cities, the movie is scheduled to open at Facets Cinematheque in Chicago on February 8, and at the 4-Star Theatre in San Francisco on February 15.
UPDATE: Win free tickets to see
Tre
this weekend! With much thanks to the good people at Cinema Libre, I'm giving away 5 pair of tickets to see the movie, at any showing from Friday, February 1 through Thursday, February 7 (except for the Friday, February 1, 7:30pm screening). Just email me with your name, the theater location (Laemmle Sunset 5 in West Hollywood or Laemmle One Colorado in Pasadena), and the date and showtime (if possible), with
TRE TICKETS
clearly written in the subject line. I'll give the tickets to the 3rd, 6th, 9th, 12th and 15th persons who email me. Here's the theater/showtime information:
Laemmle Sunset 5
8000 Sunset Blvd., West Hollywood 90046
(323) 848-3500
Showtimes: 12:30, 2:45, 5:10, 9:55
Laemmle One Colorado
42 Miller Alley, Old Pasadena 91103
(626) 744-1244
Showtimes: 12:45, 3:00, 5:25, 7:40, 10:00
Here is a bunch of DISCLAIMER stuff provided by the distributor, so please read carefully: Winner is entitled to bring one guest to attend a showing of the film, TRE, at the theatres listed in this promotion. This film is not rated. Offer valid from Friday, February 1, 2008 through Thursday, February 7, 2008 only.
NOTE: This offer is NOT VALID for the 7:30pm showing on Friday, February 1, 2008.
This promotion is not redeemable for cash, nor can it be exchanged for a ticket to any other Motion Picture. Some theatres may require payments of sales and/or admission taxes. No other promotion or offer will be accepted. Seating is on a first-come, first-served basis and is not guaranteed. Please check local newspapers or call the theatre for showtimes.