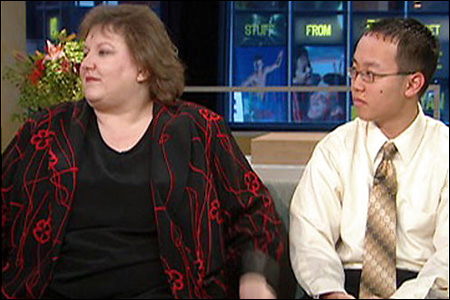 I wasn't planning on writing about this one, but after receiving a ton of email about it last week, I realize that a lot of people really love this story:
'Meanest mom on planet' sells son's car
.
Here's what happened. Mom buys her teenage son his first car, setting forth two simple rules:
No booze, and always keep it locked.
Not too long after that, she gets a little snoopy (moms are like that), and finds booze under the front seat of the unlocked car. Busted.
And that was it, time to get rid of the car. So she placed the following classified ad in the
Des Moines Register
:
"OLDS 1999 Intrigue. Totally uncool parents who obviously don't love teenage son, selling his car. Only driven for three weeks before snoopy mom who needs to get a life found booze under front seat. $3,700/offer. Call meanest mom on the planet."
The ad became an instant hit, and the mom became sort of a hero, garnering calls from all sorts of buyers, and parents, emergency room workers, school counselors and others wanting to congratulate her on her special brand of tough love. The story got picked up by the Associated Press, and suddenly Jane Hambleton, the meanest mom on the planet, because the most famous mom on the planet. Mom and son gained instant notoriety, appearing on
Good Morning America
, and getting invitations to be guests on
Oprah
and
Ellen
:
'Meanest Mom' Sells Son's Car, Family Gets Quite a Ride
.
That's around when I
saw them on TV
, and realized that young Steven Hambleton is Asian. Yes, the most famous disobedient son in America is an Asian kid. And frankly, I don't feel too sorry for him. While I'm not sure public shame is the most effective parenting tactic, let's face it—the guy was a bonehead. Who must now take the bus to school.