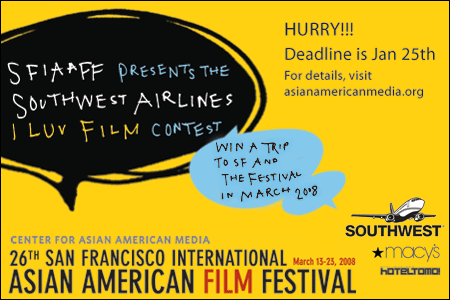 This is for all you film festival lovers and junkies. Here's something fun—a great way to experience one of the biggest and best Asian American film festivals in the country. The San Francisco International Asian American Film Festival presents the Southwest Airliens
I LUV FILM Contest
.
You could win an All-Access Pass to all the festival's films, events, performances and parties. But first you have to submit a 26-second video to enter for you chance to win... Here are the details:
San Francisco International Asian American Film Festival presents the Southwest Airlines I LUV FILM Contest

Calling all film lovers! Do you have what it takes to be a Festival Blogger? Experience the excitement of the largest Festival of its kind with an All-Access Pass - over 120 Asian and Asian American Films, Live Music, Performances, Parties, and Celebrities.

Tell us why you should be the next Festival Blogger! Submit a 26-second video online and enter a chance to win a trip to the 26th San Francisco International Asian American Film Festival in March 2008!

Grand Prize includes:
- Roundtrip tickets for two (2) on Southwest Airlines
- Four-nights stay at J-pop themed Best Western Hotel Tomo
- $500 Shopping Spree at Macy's
- All-Access passes for two (2) to the 26th SFIAAFF

Hurry!!! Submission deadline is January 25, 2008! Visit www.asianamericanmedia.org for more details and to submit your video online.

Good luck and see you at the Festival!
This is a pretty kickass contest. SFIAAFF is one of the best festivals around, so winning this would be a serious treat. But you have to submit a video, and the January 25 deadline is coming up fast. The top six most original, creative and festive videos will be chosen from the entries, and then will be voted for online. Oh yeah, I'm one of the judges. For details and guidelines on the contest, go
here
.