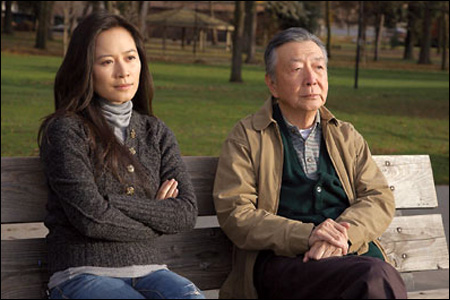 The
26th San Francisco International Asian American Film Festival
announced its official schedule earlier this week, and once again, it's pretty damn fantastic. Every year, the festival provides a showcase of the best in Asian American and Asian cinema, and this year is no different. The festival will open with
A Thousand Years of Good Prayers
, which marks Wayne Wang's return to Asian American storytelling (fifteen years after
The Joy Luck Club
). Closing the festival will be Tony Ayres' Australian feature
The Home Song Stories
, starring Joan Chen, about "a young Chinese family valiantly trying to keep itself together despite the complicated world around them." Joan Chen? I'm so there.
SFIAAFF's Centerpiece Presentation this year is Michael Kang's Korean American gangster drama
West 32nd
, starring John Cho and Grace Park. There will also be a special "Out-of-the-Vaults" presentation of the 1936 Japanese jazz musical
Whispering Sidewalks
, a sing-along screening of Richard Wong's festival-favorite
Colma: The Musical
and screenings of
The Terrorizer
,
Yi Yi: A One and a Two
, and
A Brighter Summer Day
, a tribute to the late director Edward Yang. And baby, the movie everybody's waiting for... a special presentation of
Harold and Kumar Escape From Guantanamo Bay
, starring John Cho and Kal Penn! Don't say this festival doesn't deliver something for everybody.
Other films at the festival include Gina Kim's
Never Forever
, Jessica Yu's
Ping Pong Playa
, Richard Wong's
Option 3
, Richie Mehta's
Amal
, Amyn Kaderali's
Kissing Cousins
, Derek Shimoda's
The Killing of a Chinese Cookie
, Benson Lee's
Planet B-Boy
and Christine Choy's
Long Story Short
, among many more.
SFIAAFF has long been one of my favorite film festivals, year after year. I can't wait. The 26th San Francisco International Asian American Film Festival runs March 13-23 in San Francisco, Berkeley and San Jose. Mark your calendars. For more information on the festival, and to see the full schedule of films (download the guide!) go
here
.