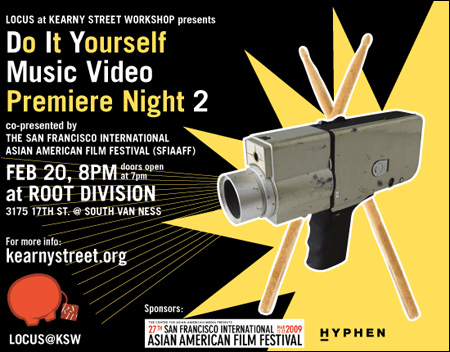 Aw yeah, Bay Area. Check it out. A few months back,
Kearny Street Workshop
teamed up independent APA musicians with aspiring filmmakers for the 2nd annual Do It Yourself Music Video Premiere and Online Contest. The result: brand-new music videos created to compete for a chance to screen at the
San Francisco International Film Festival
.
It's the best of D-I-Y filmmaking -- community filmmakers, musicians and volunteers coming together to create work with little or no budget. Now it's time to unveil them. All the videos will premiere at an event hosted by Locus at Kearny Street Workshop this Friday, February 20 at Root Division in San Francisco:
Do It Yourself Music Video Night
.
The videos will also premiere online on Friday, and viewers will be given the opportunity to vote for their favorite video and choose who will win a spot in the 2009 San Francisco International Asian American Film Festival's Music Video Asia program next month.