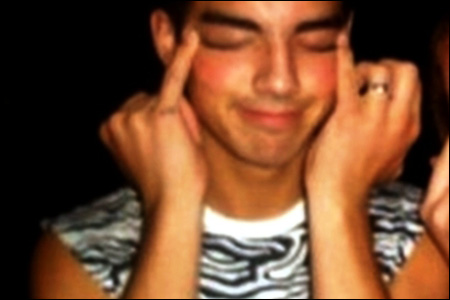 You've got to be kidding me. This can't be real. Please tell me this is a Photoshop job. A photo has surfaced on the internet featuring Joe Jonas of Jonas Brothers fame, perhaps taking cues from his friend
Miley Cyrus
and doing the dreaded chink-eye! In all its
racist
glory.
Alas, there's no Asian friend accompanying young Joe in this photo. In fact, the photo appears to be cropped, so there's no indication where or when or with whom this photo was taken. But there you have it. Joe Jonas is indeed rockin' the chink-eye:
Joe Jonas' Asian Eyes Picture: Another Miley?
What the hell is it with these young celebs and their tendency towards racial mockery? What is it about this ridiculous gesture that idiotic young people love to do so much? Like I've said before, it's pretty much the international gesture for
"chink."
And that foolishness has got to stop.
That's racist!
Is Joe Jonas really
racist
? I don't know. But I know that he's 19-years-old -- old enough to know better. I would hope. At the very least, he has exercised a severe lack of judgment. Like Miley Cyrus, he answers to a lot of people, and millions of fans who look up to him.
I hope he steps up and does the right thing. Apologize, Joe. And not just some half-assed regret about being sorry-if-you-were-offended by me and my friends just making some
"goofy faces."
How about taking responsibility for your actions? Seriously. Tired of this nonsense.