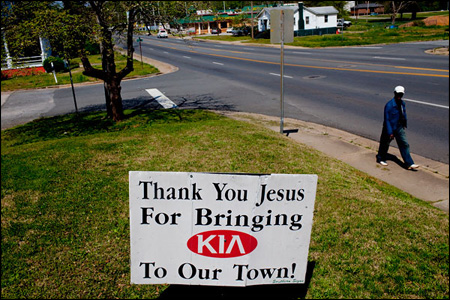 This is a really interesting story about the small rural town of West Point, Georgia, which is getting some relief in these tough economic times from an unlikely source -- a Korean car company. Kia Motors Corporation is opening a new automobile manufacturing plant here, and for many residents, it's like blessing from heaven:
One Town's Rare Ray of Hope: New Auto Plant
.
Considering the harsh reality of the recession, a new auto plant in town -- and with it, jobs -- is like winning the economic lottery. This also means a new influx of Korean workers, restaurants and businesses. The Koreans are coming! And West Point is apparently loving it...