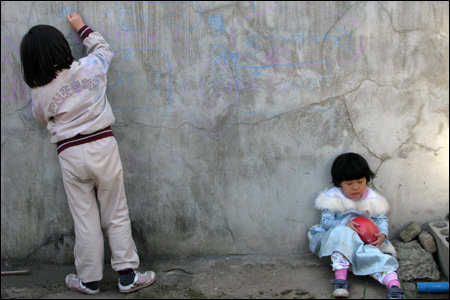 Check it out. The indie film
Treeless Mountain
, written and directed by So Yong Kim, opens in today at the
Film Forum
in New York. Inspired by events from Kim's own early childhood, the film tells the story of two little girls, Jin and Bin, who must fend for themselves when their mother decides to go look for their estranged father, and leaves them with an alcoholic aunt for the summer.
The film has already picked up a number of awards on the film festival circuit, and recently screened as the Closing Night film at the San Francisco International Asian American Film Festival. Next month, you'll be able to catch it as the Centerpiece Presentation at the
Los Angeles Asian Pacific Film Festival
.
I actually haven't watched it yet, but everyone I've heard from has said it's a remarkable, amazing, beautifully realized film, with some astonishing performances from the two kid actors. I can't wait to check it out. To learn more about
Treeless Mountain
, go to the film's website
here
. And here's an article on So Yong Kim and her husband, fellow filmmaker Bradley Rust Gray:
Independently Intimate Directors
.