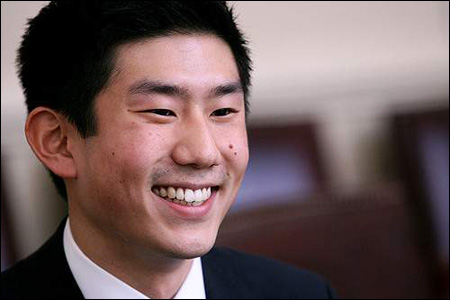 Eugene Kang
Age: 25
Special Assistant to the President
Why he's influential: Because he's at the President's side. Maybe you've wondered what it might be like to play a round of golf with the President of the United States. This guy's actually done it. But he's not just Barack's golf buddy. As a political adviser and Special Assistant to the President, Eugene Kang has a unique place in the Obama administration, and a bright future ahead of him.
In 2005, as a student at the University of Michigan, Kang ran for the Ann Arbor City Council... and lost. Narrowly, by just 90 votes. After college, he landed a job in Chicago working in the political affairs shop of the early Obama campaign. On the campaign trail, he drummed up support for Obama among Asian Americans, traveled with the Senator, and even carried the future President's cell phone.
Today, if you want to talk to the President on the phone, Eugene Kang is the guy who gets it done. He sets up phone calls to everyone from high-powered politicians to grassroots activists. He's also Obama's "special projects coordinator," meets with the office of political affairs, and takes it upon himself to make sure the President is informed of what's going on in "the real world." I'd call that pretty influential.
See the rest of the 30 Most Influential Asian Americans Under 30
here
.