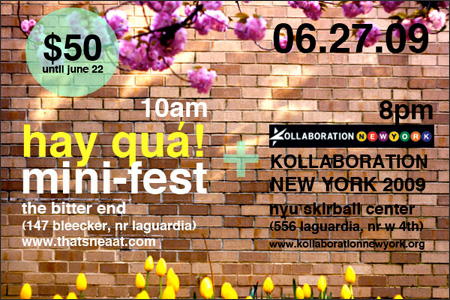 I posted something about this a few weeks back, but I thought I'd throw out a reminder that
"Hay Qua!" Mini-Fest
is happening this Saturday, June 27 at The Bitter End in New York, with an impressive roster of passionate creative thinkers/performers.
The event is a mini-fest of inspirational talks, works, and performances from the nation's most innovative Vietnamese Americans. A room full of up and coming fashion designers, chefs, architects, photographers, bloggers, and film directors, among others.
And if that's not enough to get in the door, maybe a Vietnamese sandwich will do it. The Hay Qua organizers recently announced that some of New York's top banh mi creators will be on hand for you to sample their tasty masterpieces. Yes, you want this:
"Hay Qua!" Mini-Fest

Saturday, June 27th / 10-4PM
The Bitter End (147 Bleecker St)
Register: www.thatsneaat.com

A sampling of imaginative minds at "Hay Qua!":

Alex Nguyen, Trumpet Player // www.alexnguyenmusic.com
Ali Wong, "Best Comedian 2009" by SF Weekly // www.aliwong.com
An Xuan Nguyen, Owner of 'BEP' // www.beprestaurant.blogspot.com
Bao Nguyen, Photographer // www.baonguyenphotography.com
Doan Hoang, Director of 'Oh Saigon' // www.ohsaigon.com
Ina Adele Ray, Director of 'El Paso, Vietnam' // www.adeleray.com
Jared Rehberg, 'Operation Babylift' // www.thebabylift.com
Kim Spurlock, Director of 'Buoi Chieu' // www.kimspurlock.com
Phong Bui, Publisher of 'The Brooklyn Rail' // www.brooklynrail.org
Tam Ngo, Reviewer for 'Serious Eats' // www.seriouseats.com
Thu Tran, TV Host of IFC's Food Party // www.thutranthutran.com
Tracy Nguyen, Publicist for Estelle // www.iprmktg.com
Tuan Bui, Owner of 'An Choi' // www.anchoinyc.com
Vinh Hua, Spoken Word Artist // www.vinh-hua.com
Yen Ha, Partner at FRONT STUDIOS Architects // www.frontstudio.com

But hurry, folks. The "Hay Qua!" + Kollaboration Combo Tickets are now $50 and are only available until 6/22, or until it's SOLD OUT - whichever comes first! Join others from as far as Canada, California, Oregon, Arizona, Louisiana, DC and and as close as Philly and Connecticut. And if you're in a group, email thatsneaat@gmail.com for the group discount and accommodation help!
Like I said before, this is promising to be one of those cool events you'll regret missing. For more information, including the full lineup of programs and special guests, and to purchase tickets (they're going fast!), go to the Hay Qua website
here
.