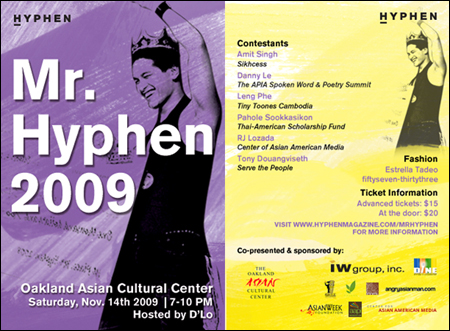 Just wanted to reminded every about the fourth annual
Mr. Hyphen
competition happening this Saturday, November 14 at the Oakland Asian Cultural Center. That's right, baby. A beauty pageant. Come, let us gather to celebrate the hot men of the Asian American community.
Each year, Hyphen and OACC celebrate Asian American men who devote themselves to worthy community causes. While structured like a pageant with rounds of talent, fashion and Q&A, Mr. Hyphen turns stereotypes on their heads in front of a sold-out crowd. Striking a blow for equal-opportunity all-in-good-fun ogling, Mr. Hyphen is an energy-filled evening of fun and charity.
Mr. Hyphen

Saturday, Novermber 14, 7-10pm

Oakland Asian Cultural Center
(Pacific Renaissance Plaza, second floor)
388 9th Street, Suite 290
Oakland, CA 94607
(510) 637-0455

All ages welcome, 21+ for alcohol
Subscribe to Hyphen for only $5 at the event with ticket purchase!

TICKETS
At the door: $20
The event will be hosted by spoken word poet D'Lo. Rounds will be decided alternately by an audience vote and by an illustrious panel of judges. The man who is crowned Mr. Hyphen wins a $1000 cash donation to his nonprofit organization. Here are the awesome dudes who will be vying for the title:
Amit Singh
Sikhcess
Danny Le
The APIA Spoken Word & Poetry Summit
Leng Phe
Tiny Toones Cambodia
Pahole Sookkasikon
Thai-American Scholarship Fund
RJ Lozada
Center for Asian American Media
Tony Dizel
Serve the People
That's a solid lineup of dudes. Come out and see the man parade! It's going to be a really fun evening of good vibes and community love. For more information about the Mr. Hyphen competition, go
here
.