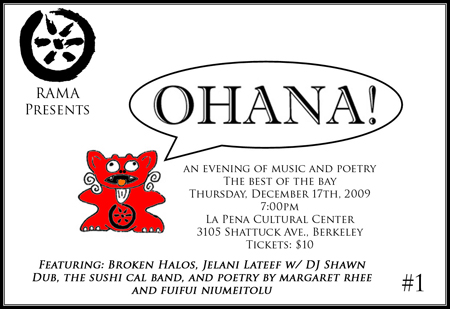 This is for my Bay Area friends...
RAMA
presents a new semi-monthly performance series, OHANA! It's a small, intimate variety show for local, up-and-coming, independent Asian American performers, much like the Sulu Series in New York. The first one is tomorrow night, Thursday, December 17 in Berkeley. Some details:
OHANA!
An evening of music and poetry
Brought to you by RAMA

Thursday, December 17th
7:00pm

La Pena Cultural Center
3105 Shattuck Ave., Berkeley
Admission: $10
+ Bake Sale

[We will also be raffling off 2 tickets ($60 dollar value!) to our upcoming APIA variety concert extravaganza, GO!STYLE, in February (www.gostyle.org)!]

Featuring: Broken Halos, Jelani Lateef w/ DJ Shawn Dub, The Sushi Cal Band, with poetry by Margaret Rhee and Fuifui Niumeitolu
The aim is for this to be an ongoing series that is truly pan-Asian, LGBTQ-friendly, and produced by a local organization, featuring performers all from the Bay Area, for the purpose of building a stronger, more cohesive community centered around Asian American art. Check it out.