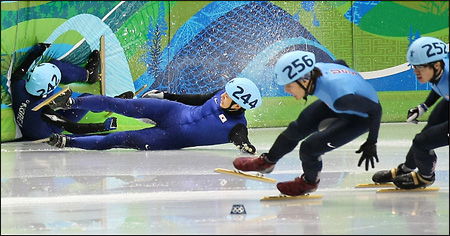 Spent the better part of last night watching Olympics coverage, including short track speeding skating. Saw Apolo Anton Ohno win a silver medal in the 1500m, in one of the most exciting, surprising finishes I've ever seen.
It looked like the trio of South Korean skaters had completely locked up the race, but it all changed in a split second when a crash took two of them out -- just before the finish line.
That's Ohno's sixth medal, tying speed skater Bonnie Blair's record and becoming the most decorated American man in Winter Olympic history. Without a doubt, the guy is a superstar:
Ohno's Silver, His 6th Medal, Ties a Record
.
Ohno's heir apparent: 19-year-old J.R. Celski, who took the bronze medal for Team USA. This was just five months after a gruesome accident -- slashing his leg with a skate blade -- that could have killed him:
Comeback story: American speedskater J.R. Celski
. I got a big kick out of seeing his mom cheer him on.
And of course, big props to gold medalist Lee Jung-Su of South Korea:
Korean Jung-Su Lee wins 1,500m short track title
.
By the way, skaters of Asian descent dominate this sport. How crazy was it to see a final with two Asian Americans from the United States, three South Koreans, one Chinese skater... and a Canadian? Pretty damn entertaining.