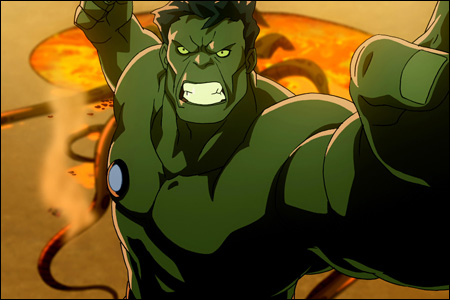 A couple of years back, filmmaker-turned-comic book scribe
Greg Pak
wrote a highly entertaining and acclaimed storyline called
Planet Hulk
. Easily one of the best
Hulk
stories in recent years, it's been adapted into an animated
direct-to-DVD movie
, out in stores today. Here's the story:
He was a monster -- impossible to control, too dangerous to ignore. So Earth's mightiest heroes exiled him into outer space. But now the Incredible Hulk crash lands on the distant planet Sakaar, ruled by the tyrannical Red King. Sold into slavery, Hulk becomes the planet's mightiest gladiator -- but his new masters get more than they bargained for when he forges a bond of brotherhood with his fellow fighters. Unlike Earth, the desperate people of Sakaar believe a monster is just what they need. But will the Hulk be the one to save their world... or destroy it?
The movie is directed by veteran animation artist
Sam Liu
. I haven't been able to watch it yet, but the DVD includes a bunch of extra features, including one with Greg and artist Aaron Lopresti talking about how the book came together and where it leads.
Watch the trailer for
Planet Hulk
here
. And to learn more about Greg Pak's work on the
Hulk
, visit his website
here
. You can also follow Greg on Twitter
here
.