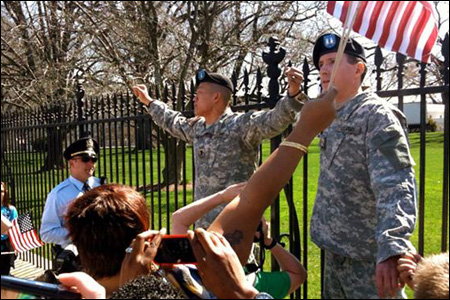 As you know, Lt. Dan Choi was recently arrested for chaining himself to the White House gates to protest the U.S. military's 'Don't Ask Don't Tell' policy. Here's an interview he did last week with
Newsweek
, talking about civil disobedience, gay rights, and how the Army made him a better activist:
'This is my mission.'
By the way, going against his court-appointed lawyer's advice, Choi refused to pay a $100 fine and walk away, instead pleading not guilty and preparing to stand trial.
I like this quote from the interview, about what the future holds for Lt. Choi: "When I was handcuffed to the gate someone else asked me what's next. I'm standing there with hands lifted skyward and I just told him, "This is." I have fully committed my life and all the sacrifices necessary to manifest equality and America's promises. Like I said at court, "I'm not guilty, I'm not ashamed, and I'm not finished."