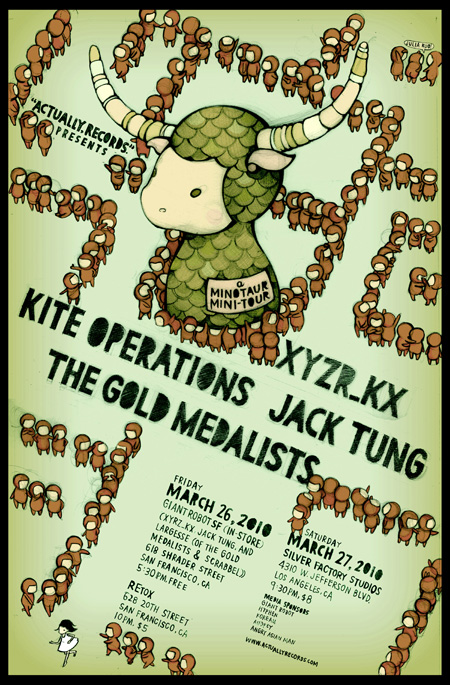 Chicago-based indie-rock/electro-pop wunderguy
XYZR_KX
(pronounced "Scissor Kicks"), aka Jon Monteverde, recently released a music video for his track
"Home."
. As it was described to me, "Found footage + colonialism = Ooooo, the meaning!" Indeed:
As I mentioned before, if you're in San Francisco or Los Angeles, you can catch XYZR_KX, along with
Actually, Records
indie rock labelmates Kite Operations, The Gold Medalists, and Jack Tung this weekend on their
Minotaur Mini-Tour
.
That's tomorrow, March 26 in San Francisco with an in-store performance at Giant Robot during the day and a show at Retox in the evening. The tour stops Saturday, March 27 in Los Angeles, with a show at Silver Factory Studios.
These guys don't perform on the west coast very often, so come out to the show and check out some new music. For more information about A Minotaur Mini-Tour, including ticket sales and artist info, as well as some free music downloads, visit "Actually, Records" website
here
.