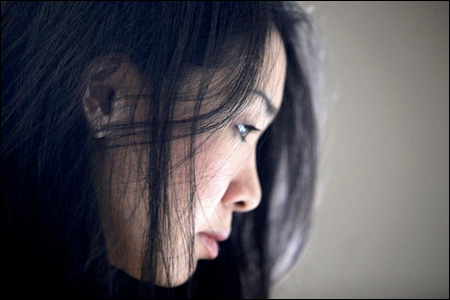 The
New York Times
recently ran a nice profile on college teacher, published author and Brooklyn's new poet laureate, Tina Chang:
A Poet Who Doesn't Do Lofty
. She is the fourth person -- and first woman -- to hold the post, and says one of her chief goals is to "demystify the role of the poet":
"People use the word 'lofty' a lot when they think of a poet," she said between bites of portobello-mushroom-and-leek quiche baked by her partner, who sold his stake in a Boerum Hill bar last year to work a more family-friendly schedule at a catering company. "Being a poet is anything but lofty."

Marty Markowitz, the Brooklyn borough president, who, with the help of a selection committee, chose Ms. Chang from 22 applicants, said he was taken by her passion for bringing poetry to the people and her embodiment of Brooklyn's diversity: the daughter of Chinese immigrants, engaged to the son of Haitian immigrants, with close relatives from the Middle East and Latin America. It did not hurt that she was unfazed by the lack of salary, stipend, office or budget. "It's like I gave her an Academy Award, she was so happy," Mr. Markowitz said.
This is a person who takes poetry seriously, but wants to make sure it's accessible and appreciated by everyone. According to the article, she has a 7-month-old son, and read T.S. Eliot's "The Waste Land" to him in utero. That kid is either going to grow up to a brilliant literary mind... or just really, really confused.