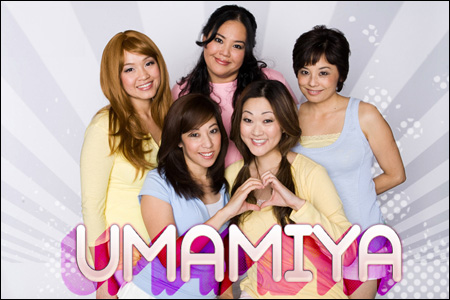 Move over Wonder Girls. The latest Asian girl group poised for world pop domination is
Umamiya
-- Kim Min Jung, Kitty Karaoke, Winnie Wu (a.k.a. WWII), mari.kris.am.i, and Cathedral Leung -- assembled together and powered by
S-Cube Entertainment
. Get a
taste
of their slammin' debut single, "Hot Sour Spicy and Sweet":
S-Cube Entertainment is the brainchild of international music mogul and impresario Sang Sung Song, who made the international Asian Hip Hop charts with his 2007 underground dance hit "Noraebang Means Noraebang." To learn more about the girls of Umamiya, go to the S-Cube website
here
.
There is something very familiar about this group. Hmmm. Is it me or do S-Cube and the girls of Umamiya bear a striking resemblance to cast members of the Asian American improv/sketch comedy troupes
Cold Tofu
and
OPM
?