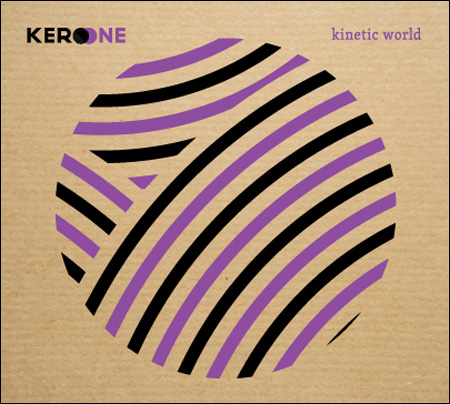 At long last!
Kinetic World
, the third album from San Francisco rapper/producer
Kero One
, is out today. I was a huge fan of
Early Believers
, and have been eagerly awaiting the release of this record. I am listening to
Kinetic World
as I write this, and so far, I'm really enjoying it. Here's the official press release:
After receiving accolades from Will.i.am, signing with a major label in Asia, and touring with Korean super group Epik high at sold out venues such as House of Blues Hollywood and The Fillmore Irving plaza, Kero One not only picked up new fans but new inspirations for his third solo album. Inspiration's came not only from the musicians Kero One toured with, crowds Kero One interacted with, but also the sights and sounds of each city. As Kero One puts it, "Time is ticking, everyone is moving, things are changing, and it's this kinetic world that inspires me to write."

The San Francisco based DIY rapper-producer that started his career from a credit card and persistent hard work, is back again with his third self-released album entitled Kinetic World. Kinetic World is an 11 track album produced entirely by Kero One. In addition, he also plays a majority of the instruments and even performs some of the scratching on the album. Lyrically, the album explores Kero One's mission and drive in his music career (Let Me Clarify), his strive to stay fitted and fashionable (We Stay Fly), potentially controversial topics of Asians in America and media (Asian Kids), finding the love of his life (On Bended Knee), and also his experiences of life in the fast lane (Fast Life). In Kinetic World, Kero One shows us varying rap and production styles spawning from the east and west coast, dirty south, and Asia, featuring artists such as Fashawn, Tablo of Epik high, Myk, Dumbfoundead, Othello, Dminor, and The Tones.
We've already gotten a
behind-the-scenes
glimpse of the making of the album, as well as a taste with the kickass track
"Asian Kids."
Now it's time to get your hands on the whole album.
Kinetic World
is available on
iTunes
and the
Plug Label
shop. For more information on Kero One and his music, check out his website
here
.