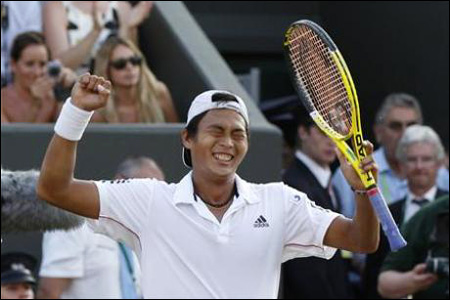 Oh snap! In a stunning upset, 26-year-old Yen-hsun Lu of Taiwan -- ranked 82nd in the world -- has defeated Andy Roddick at Wimbledon, 9-7 in the fifth set:
Roddick Upset by Lu in Wimbledon Round of 16
. It was a win few would have predicted:
Roddick looked to be in deep trouble in the fourth set tiebreaker, trailing love-3. He somehow escaped with great serving and a few tight-looking shots from Lu. In the fifth, however, Lu held with authority and seemed utterly comfortable with the idea of beating Roddick. He continually played to win, attacking at every opportunity. Roddick fought hard, but kept waiting for Lu to falter. The match began to take on the feel of the marathon between John Isner and Nicolas Mahut, with each player holding serve easily, but Lu broke through in the 16th game to win.
Lu is the first Asian man to reach the quarterfinals of any Grand Slam since Shuzo Matsuoka of Japan did it at Wimbledon in 1995. He advances to play Novak Djokovic on Wednesday. More here:
Roddick upset by Lu in 4th round at Wimbledon
.