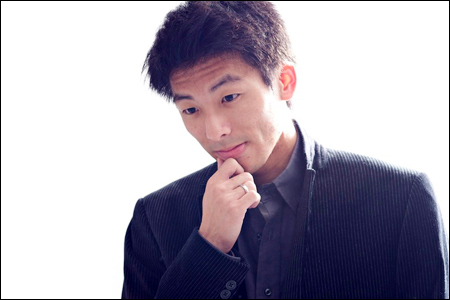 Once again, it's time to meet another
Angry Reader of the Week
, spotlighting you, the very special readers of this website. Over the years, I've been able to connect with a lot of cool folks, and this is a way of showing some appreciation and attention to the people who help make this blog what it is. This week's Angry Reader is Ted Fu, one of the guys behind the extremely popular
Wong Fu Productions
.
Who are you?
Hello, I'm Ted Fu, one of the co-founders of Wong Fu Productions.
What are you?
Depends who you ask. At home I'm usually either a chair, litter scooper or a can opener. At least that's what I think my cat sees me as. I'm a gadget geek, cat lover, automotive fan, and sometimes a bit of a neat freak. I went into college studying electrical engineering but graduated from UC San Diego with a degree in Visual Arts, although I like to think that I'm still an engineer at heart. I am an entrepreneur and a participant in New Media.
Where are you?
I live in the beautiful city of Pasadena in Los Angeles. My home away from home is New York City.
Where are you from?
I usually say I'm from everywhere since I moved quite a bit whilegrowing up. I'm always envious of the people who grew up in the same town, at least until college. I was born in Cape Town, South Africa, moved to Taiwan when I was five, moved to San Francisco where I finished elementary school and middle school, moved back to South Africa during my high school career and finally moved myself to San Diego for college. The next question people usually have is "Why did you move so much?" and I would say my dad was a Taiwanese Ambassador. I definitely had a very unique upbringing and now looking back at it I wouldn't want it any other way.
What do you do?
I am one of the co-founders of Wong Fu Productions. I started making online videos with Philip Wang and Wesley Chan while we were in college. Today, our company has produced over 200 online videos, we've created a successful online apparel store, launched a plush line of Awkward Animals and started a sold out concert series with Far*East
Movement called International Secret Agents (ISA).
What are you all about?
I'm about giving back to the community, because we wouldn't be where we are without all our wonderful supporters. I'm all about continuous learning, there's so much to learn but so little time.
What makes you angry?
This computer I'm using right now because I sit in front of it for countless hours each day. Asian Americans who either don't support their own community or are strong critics to those trying to make a difference. Inconsiderate and ignorant people.