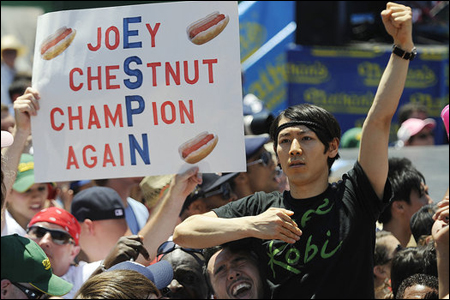 Drama! In hot dog eating... As reported earlier, professional eating champ Takeru Competition did not compete this year at the annual 4th of July Nathan's Hot Dog Eating Contest. But that doesn't mean he wasn't there. Oh, he showed up -- and was led away in handcuffs. Here's the video of his arrest:


Kobayashi apparently went on stage after the competition. Police officers grabbed him, and he tried to hold onto police barricades as they too him into custody: Ex-champ arrested after hot-dogging it at eating contest.
An eating champion who sat out this year's Coney Island Fourth of July hot dog contest apparently couldn't resist the temptation to show off anyway — and got arrested.

Six-time champion Takeru Kobayashi of Japan was in jail Sunday after the annual Nathan's Famous International Hot Dog Eating Contest.

Joey "Jaws" Chestnut gobbled his way to a fourth consecutive championship, downing 54 hot dogs in 10 minutes to claim the mustard-yellow belt and $20,000.

But he was upstaged by the surprise appearance of his biggest rival, Kobayashi, who crashed the eating platform after Chestnut's win and wrestled with police.

"Let him eat! Let him eat!" the crowd chanted as officers handcuffed the world's No. 3 professional eater, dubbed the Tsunami.
Kobayashi didn't compete this year because he refused to sign a contract with Major League Eating, the world body that oversees all professional eating contests. But I guess he just couldn't resist the temptation for some attention at the flagship competitive eating event. More here:
Ex-champ taken into custody at NYC hot dog event
.