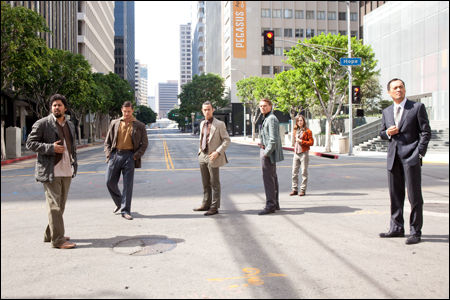 Caught a screening of Christopher Nolan's mind-boggling sci-fi thriller
Inception
last night. It's a stunning, awesome summer flick. In a stale season of sequels, remakes and video game adaptations, it's just refreshing to watch a summer blockbuster that's both visually stunning, intelligent -- and completely original.
The movie is about thieves who steal stuff from people's dreams. Ken Watanabe plays the not-quite-a-villain Saito, who has a pretty major part in the story. Dileep Rao stars as Yusuf, who is also a significant role in "the team."
Now's a good time for one last reminder I'm giving away some
free Inception gear
. For your chance to win, all you have to do is answer some trivia questions. For details on how to enter the giveaway, go
here
. You have until the end of Friday. Good luck.