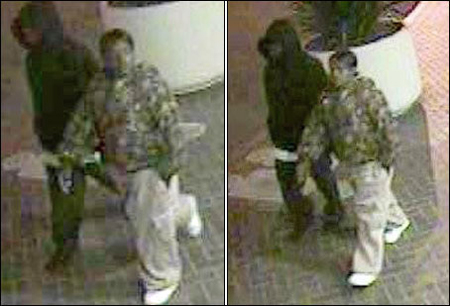 Last week, Jinghong Kang was visiting the Bay Area from Virginia for a job interview when he was
robbed and shot to death
in Oakland. This week, Oakland police released surveillance-camera photos of the man and a woman suspected of killing Kang:
Photos released in Virginia visitor's killing
.
Police say the grainy photos, taken from a video camera outside a nearby office building, show a man and woman walking together on the 1900 block of Webster Street in downtown Oakland moments before computer engineer Jinghong Kang, 45, of Fairfax, Va., was shot and killed at about 11:30 p.m. Sunday.

The photos don't show the robbery or killing, but police said the two people pictured match descriptions of the assailants provided by a companion of Kang's.

Both suspects are black. Investigators described the man as 18 to 25 years old, 5-foot-7 to 5-foot-10 and 160 to 170 pounds. He wore a black hooded sweatshirt, dark pants and dark shoes.

Investigators said the woman was 18 to 25 years old, 5-foot-3 to 5-foot-6 and 140 to 150 pounds. She wore a multicolored jacket, gray baggy sweatpants and white tennis shoes.
It's infuriating. An innocent life taken -- for $17. The photo was taken from a grainy video, so the quality isn't very good, but getting the photo and their descriptions out there will hopefully help police track down these suspects. More here:
Video Of Suspects In Virginia Man's Murder Released
.
Police and Crime Stoppers of Oakland are offering as much as $20,000 in reward money for information leading to the arrest of the killers. Anyone with information can call police at 510-238-3821 or Crime Stoppers at 510-777-8572 or 510-777-3211.
UPDATE: Oakland police are trying to determine whether the two people who robbed and killed Jinghong Kang are responsible for other downtown robberies:
$17 killers may have robbed others, police say
.