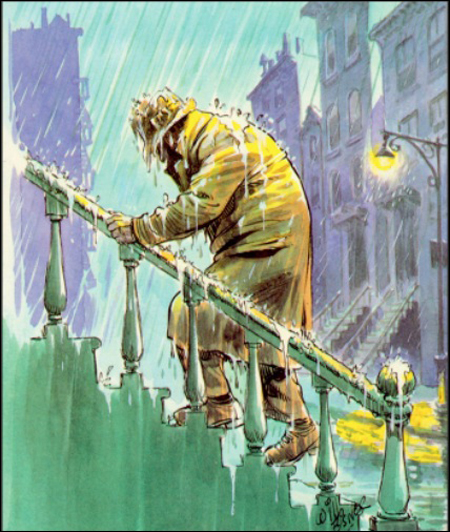 Still catching up on news coming out of Comic-Con... On Friday, it was announced that Will Eisner's groundbreaking graphic novel
A Contract with God
is being adapted into a live action feature film, and our friend Tze Chun is attached to direct one of the story's four adjoining chapters. From the press release:
In what is considered by many to be one of the most influential graphic novels ever written, in "A Contract with God" Eisner utilizes the comic book format in an innovative and pioneering way to explore stories and memories from his childhood growing up in a New York City tenement. Each tale captures the brutality, fragility, and tenderness that exists among people living in close quarters in challenging economic times.

A quartet of acclaimed independent directors are attached to direct each of the graphic novel's four adjoining chapters: Alex Rivera ("Sleep Dealer"); Tze Chun ("Children of Invention"); Barry Jenkins ("Medicine for Melancholy"); and Sean Baker ("Prince of Broadway," MTV's "Warren the Ape"). The film will be produced and adapted for the screen by Darren Dean, whose first feature "Prince of Broadway," about an illegal immigrant in contemporary New York City, is being released this fall and whose second feature, Rwanda-shot "Kinyarwanda" (directed by Alrick Brown) is in post-production, due for a festival bow in 2011.

The film adaptation of "A Contract with God" will be produced under the auspices of the Eisner estate in the spirit of the original work. Bob Schreck, a 30-year veteran of the comic book industry and Michael Ruggiero, former head of original programming at STARZ, will serve as Co-Executive Producers. Black Squirrel Films Co-Founder Tommy Oliver will serve as Co-Producer and Mark Rabinowitz, Co-Founder of indieWIRE.com, will serve as Associate Producer.

Focusing on the immigrant struggle, "A Contract With God" takes a look at a salient theme across four separate but related stories, set primarily in a New York City tenement in the 1930s. The four segments are: "A Contract With God" (Rivera), "The Street Singer" (Chun), "The Super" (Jenkins) and "Cookalien," (Baker). Each of the filmmakers comes to the project with a distinct aesthetic approach which will capture the diversity, style and essence of Eisner's story. Nat Sanders ("Medicine for Melancholy," "Humpday") will serve as editor on the entire film.
Key roles will be cast in the coming months, and principle photography is set to begin in 2011. I'm a
huge
fan of
Children of Invention
, and I was curious to see what Tze did next. I didn't know it was going to be a comic book adaptation! I've never read
A Contract with God
, but it sounds pretty cool, and Will Eisner is nothing short of a comics legend. I'm looking forward to seeing this.