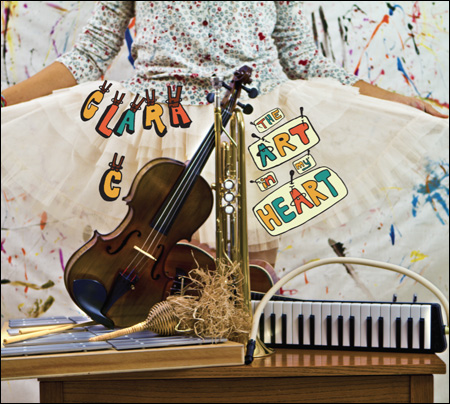 Gotta make sure you know that
The Art in my Heart
, the debut album from
Clara C
, is now available. I've been listening to it all weekend, and it's pretty darn lovely. It's just a solid record of wonderfully produced folk pop tunes, featuring some really nice songwriting and beautiful vocals from Clara. Here's a cool
video
with sample tunes:
Here's the track listing:
1. Hum
2. Offbeat
3. Heartstrings
4. The Camel Song
5. Til We Go
6. Fool's Gold
7. Dear Daphne
8. Loveprint
9. Wait On Me
10. Wake Up In Neverland
Honestly, it's hard for me to pick a favorite song from the album -- they're all great. Though I've got a soft spot for the incredibly infectious "Offbeat," the song I first heard when she performed at (and won) Kollaboration 2010. Super cute.
Clara's the real deal. She's an incredible talent, the kind of artist who makes you sit up when you hear her for the first time. And you wonder - - where the heck did she come from, and where can I hear more? Order the album from Big Cartel
here
. And to hear more from Clara, go to her YouTube channel
here
.