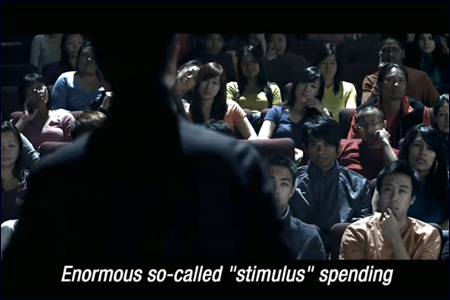 Through the power of Twitter, I was able to get connected with another extra who appears as one of the students in the
"Chinese Professor"
commercial. Howard K. is the guy in the front row wearing the orange shirt, listening attentively to Professor China. He shares about his experience getting cast and shooting the commercial:

Everything happened actually quite quickly. I initially received an email from a friend saying they're shooting Transformers 3 in DC and asking if I wanted to be an extra in the movie. So I sent an email over to the casting agency providing my information such as my age/gender/nationality/height/experiences and a photo of myself. The next day I received an email from the casting agency, hoping it was for transformers but instead they wanted to cast me as an extra in a political commercial.

I was very wary about being in a political commercial because I wasn't sure what issues I would be conveying so I asked the agency what it was about. They could only tell me that I would be a non-partisan in the video and listening as a student. I've always been open to acting opportunities, so I accepted the offer. A few hours later I received an email asking me if I knew others interested in being an extra as well, as long as they were of ASIAN descent. I started thinking, "Hmm... maybe they are lacking Asians?"

During the day of the shoot, I realized everyone in the commercial was Asian. We asked them what the commercial was about but they said they couldn't tell us for legal reasons. So we just did what we were told, laughed when we needed to or acted like we were listening very attentively.

I think the commercial is a propaganda tactic meant to bring fear to Americans. Making it seem like China is coming to take over our economy. They made the commercial seem very dark and evil as if the Chinese government has been plotting this for years or something. I hope people understand that as an extra we were not told the entire theme/script of the commercial. Personally, I don't support the commercial's portrayal of China nor the commercial's views in general.
Thanks for sharing, Howard. This is pretty consistent with what Joshua, who was also an extra in the commercial, shared in a
previous post
. Ah, lured with the sweet prospect of being in a
Transformers
movie... only to find yourself appearing in fear-mongering propaganda. That sucks. Anybody else out there want to share about being in this crappy commercial? (Thanks, Sahar.)