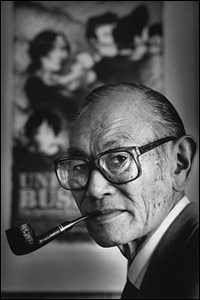 Jeff Yang's latest "Asian Pop" isn't a whole lot of pop this time, but it's still quite good, looking at the historic legacy of Japanese American civil rights hero Fred Korematsu, who boldly defied the U.S. government and challenged the social injustice of the internment:
The man who said no
.
Last month, California Governor Arnold Schwarzenegger
signed into law
AB1775, a bill establishing January 30 of each year as the Fred Korematsu Day of Civil Liberties and the Constitution, which encourages schools across the state to teach students about Fred Korematsu's story and its relevance for Americans today:

The day commemorates his defiance of Executive Order 9066, the government directive that incarcerated more than 110,000 of his fellow Japanese Americans in internment camps during World War II. Korematsu's decision to resist an unconstitutional edict led to his arrest, conviction and disgrace -- and then, three decades later, set the stage for a personal vindication and the establishment of a historical precedent whose implications are more relevant today than ever.

"This day is not just about honoring my father," says Karen Korematsu, who set aside her own career a decade and a half ago to work full-time in carrying on her father's legacy. "The significance here is the opportunity this gives us for education, to continue to teach the lesson that each of us has the responsibility to stand up and say no to injustice. And when you see what's happening today, that's a lesson we obviously haven't learned as well as we should."

That's because if Korematsu were alive today, he'd be speaking out in horror against today's toxic climate of unfounded fear and suspicion, recognizing it as one that can rapidly lead to outrages like the Japanese American internment.
Seriously, the civil rights lessons of Fred Korematsu's case appear to be just as important today as they were during World War II. This isn't remembering just to remember -- the whole point of Korematsu's case was to prevent something like the internment from ever happening again.
The first Fred Korematsu Day will be celebrated on Fred Korematsu's birthday, January 30, 2011. The Korematsu Institute plans to roll out curriculum in K-12 schools that week and on all future Korematsu Days. Wouldn't be awesome if the day was celebrated in further states beyond California? It could happen. For more information about the Fred Korematsu Education Program, go
here
.