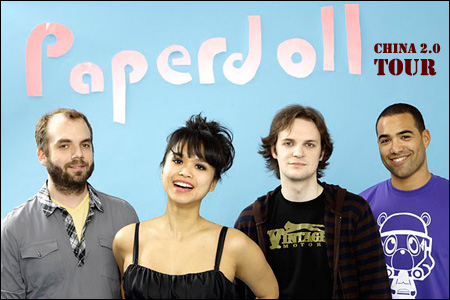 One of my favorite bands,
PaperDoll
, is currently on tour in China, October 12-29. I've invited lead singer (and former
Angry Reader of the Week
) Teresa Lee to contribute some guests post chronicling the band's journeys.
Here is Teresa's last guest blog. The band's China 2.0 tour was reportedly an enormous success! After two and a half weeks of some huge shows and crazy touring around China, PaperDoll is headed home...
We've been in China for about two and half weeks,
traveling from city to city, playing just about every day to amazing crowds.
Beijing and Tianjin were awesome -- too short -- but an amazing time. Plus as an added bonus, we got to jam on the plane to
John Lennon's "Imagine" as played by Peruvian Wind Pipes
. We flew a Chinese airline called Hainan back to Shanghai and it's pretty sweet. On the 1 hour 40 minute flight, we get a full dinner of beef, vegetables, and noodles. We land in Shanghai to pouring rain! Remnants of the Typhoon.
It's about midnight when we get to the hotel. We have a 1pm bus to Hangzhou the next day and we still need to find a voltage converter for my mic set up before then. I face plant into my bed and fall asleep. The next day, I wake up to find that Patrick (guitar) went to the market down the street and found a voltage converter to replace the one we fried in Tianjin -- Thank Goodness!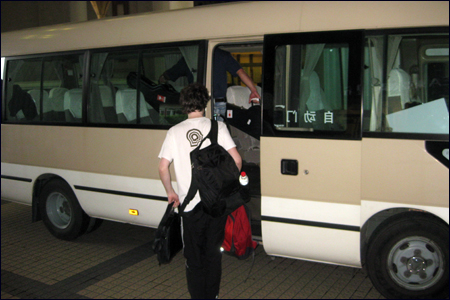 The West Lake Festival sent a huge 18 seater bus to come get us. It was so comfortable, the 3 hour bus ride to Hangzhou goes by quickly...so does the next few hours. We arrive in Hangzhou at 4p, sound check at 4:45p, and play on the Lake at 6p. It's a tight schedule. It's also pouring rain, but a few hundred people including the Hangzhou TV crew come out to see us! Here's Chip getting
swarmed for autographs
.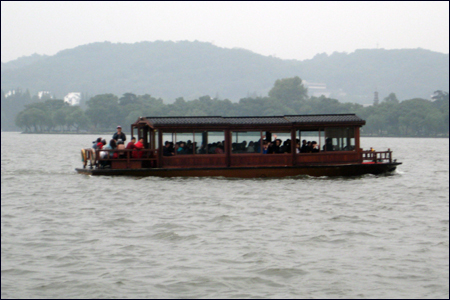 For the next 24 hours, our hosts (the city council of Hangzhou) planned an action-packed itinerary including 27-dish lunches and dinners, private boat rides, a theatrical bonanza telling the history of Hangzhou in between more gigs. The boys drank amazing local liquor called "huang jiu" (it was awesome!) with their new
drinking buddies
; the Hangzhou city officials.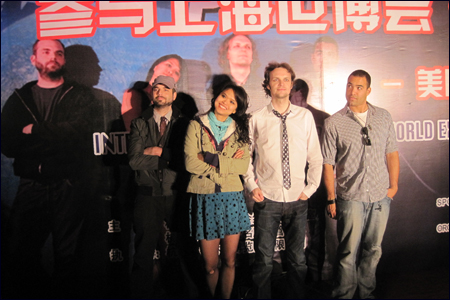 We absolutely love the city of Hangzhou -- they even made a 20 by 10 foot larger-than-life poster of PaperDoll to put on the festival stage.
36 hours after we arrived, we had to leave our new friends in Hangzhou for a interview and acoustic performance on ICS TV in Shanghai. (The show is Expo 360 and highlights the best of the World Expo). An hour into our drive back, we got a text saying the acoustic instruments we secured fell through. It was 10am, we were on the on road had 3 hours until our TV shoot and somehow had to find some gear. We called everyone we knew who might have a friend who could help us. Lucky for us Emma - our Hangzhou guide was on the bus with us and she made a dozen calls to help us find gear for the show -- we had a plan, but it was going to be very close.
Now its 12:30p and we arrive back at the hotel in Shanghai. Patrick makes a mad dash for his room, changes his clothes, and gets the Concierge to write down the guitar store address and ICS TV studio address in Chinese. As the rest of us are getting ready, Patrick runs to the guitar district, picks up an acoustic guitar, a tiny bass amp, and two egg shakers. By some miracle, we all make it to the studio by 2pm.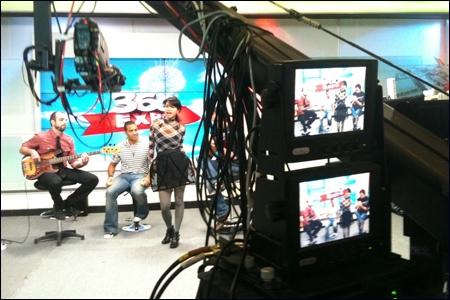 We literally practice our acoustic set as they are mic-ing us and telling us the format of the show. I was lucky enough to get some outfits from famous LA/Shanghai designer Flora Zeta. Previously, I wore her stuff on the America Square stage the week before. Incidentally, her husband is Russell Wong -- who recently appeared on CW's
Nikita
. Flora -- the gorgeous ex-prima ballerina designer-- has unique eye for show-stopping, yet wearable looks. The outfit was a hit among all the ladies working at ICS TV; half a dozen of them asked where I got it.
The Expo 360
interview/show
was so fun! We're in the intro and again a few times throughout the show. The hosts were warm and excited about us which made us really comfortable. Luckily, we only had to do one take for the performance. We were totally stoked to be on the show since it was during the show's finale!
The next day, we go to our final shows of the Expo. It's 45 degrees F, but there's still a huge crowd out for our show at the USA Pavilion. The crowds are jumping around and dancing. I look around at the boys (in the band) and they could not be happier. This is where we're happiest -- on stage, with each other, and meeting
new friends
.