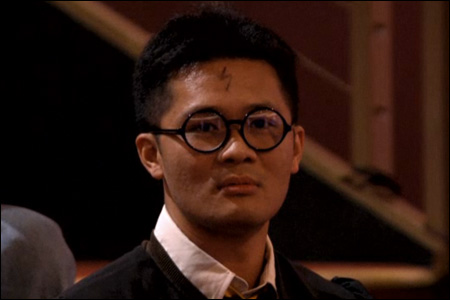 Did you see Harry Potter? I'm talking about Asian Harry Potter, of course, who appeared in the audience of Thursday night's
Conan
. His striking Potter costume literally stopped Conan O'Brien's during his monologue and left the late-night host speechless. Here's the video:
As you can see, the guy's costume -- complete with Voldemort's lightning bolt scar -- was so awesome, Conan almost abandoned the joke. And by the end of the monologue, Conan had made a new friend -- Asian Harry Potter. It was quite funny, and despite all sorts of geeky jabs, the guy was a good sport: Man In Conan Audience Dressed As Harry Potter Renders Conan Speechless (VIDEO).
So... are you the Asian Harry Potter guy? Does anyone out there know who he is? I want to hear from you!
UPDATE: We have found him! Read the Q & A with Asian Harry Potter.