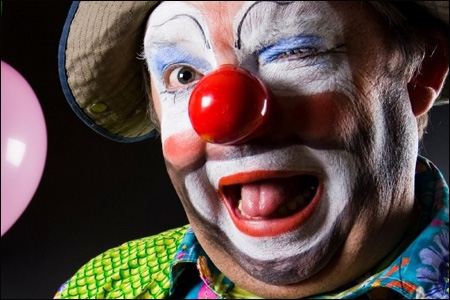 Are you afraid of clowns? You should be. Arthur Chi'en will tell you. On Sunday in New York, the Emmy-winning WPIX reporter was dragged off a Greenwich Village Halloween Parade float by
a marauding clown
, suffering extensive fractures when he hit the ground -- face first:
Halloween Parade clown fractures Emmy-winning WPIX reporter Arthur Chi'en's face
.

"He was trying to scale the float and he grabbed my arm," said the veteran newsman, whose face was shattered in six places when he was pulled off the float as it neared W. 14th St. just after 9 p.m.

"I tried to wave him off, but the railing gave way," Chi'en told the Daily News on Wednesday night. "We both fell, but I landed face first in the street."

Chi'en is expected to have reconstructive surgery on Thursday.
None of the station's cameras got a shot of the crazy clown. The cops don't have any leads either. You got away, Clown Marauder. Meanwhile, Chi'en will have to undergo at least a month of postsurgical recovery. More here:
Clown Injures WPIX Reporter During Halloween Parade
.